Because scooters are so economical, getting one might be the perfect solution to getting around town cheaply while running errands, returning some library books, or perhaps delivering a letter to the mailbox down the road.
However, scooters may not be everyone's cup of tea, and the laws and regulations regarding their operation on public roads are often contradictory and confusing, to say the least.
Nonetheless, a 50cc scooter can save you tons of money in fuel and car maintenance costs so it might be worth your while to consider getting one, which is why we have produced this brief overview of the world of 50cc scooters to help you decide if a 50cc scooter is the right choice for you.
We also offer you four possible choices of 50cc scooters, but before we get to that, we need to answer two very important questions.
Is a 50cc scooter street legal in the US?
This is an exceedingly difficult question to answer, but for the most part, most 50cc scooters are considered street legal because they have headlights, a brake light, turn signals, and functional brakes. However, the requirements that make their operation on public roads legal (or otherwise) vary widely from state to state.
Apart from the fact that almost all states define a 50cc scooter as a vehicle that does not make more than 2 HP, or have the ability to exceed 30 m/ph, there is virtually no agreement between the states on the requirements to operate a 50cc scooter, with the exception of a blanket ban on using 50cc scooters on freeways.
Every state has its own code and regulations regarding the operation of 50cc scooters, and in some states, it is not even a requirement to register, or title a scooter. Other differences include the minimum driving age, with some states allowing 14-year-olds to operate a scooter, while others prescribe a minimum age of 18.
Some states require the use of crash helmets, while others do not. Some states require the rider to wear goggles, while others forbid scooters on public roads after dark. Then there is the matter of driver's licenses for 50cc scooters; some states require the rider to hold a drivers license – any license- while other states don't require a license or any type of endorsement on existing licenses at all.
Thus, the question is not so much "Is a 50cc scooter street legal in the US?", as it is "Am I operating my 50cc scooter legally in my state?", so  we strongly recommend that you familiarize yourself with the legal aspects of operating a 50 cc scooter in your state before buying one.
Comprehensive information regarding the use of 50cc scooters on each of the 50 states can be found on the Moped2 website. Now that you know what you can, and cannot do.
Is a 50cc scooter powerful enough?
Again, this is a difficult question to answer, because the word "enough" means different things to different people. For instance, if you live in Seattle, where some roads are so steep that the sidewalks have steps built into them, then clearly a 50cc scooter is not going to be powerful enough for you, and especially if you have to carry a passenger, or even just a bag of groceries.
On the other hand, though, if you live in a town where there the terrain is flat, then 50cc's might be more than enough to get you around town safely. Thus, the question of how much power is enough depends on your particular needs and circumstances but regardless of where you live; bear the following points in mind if you are considering getting a 50cc scooter-
The law in all states limits the power of 50cc scooters to 2 HP, which might not always be enough to allow you to accelerate away from a dangerous situation, especially when carrying a passenger.
The maximum allowable speed of 30 m/ph might not always be enough to allow you to keep up with urban traffic, which could lead to dangerous situations developing when you obstruct the flow of faster traffic.
The low power output of a 50cc scooter could reduce your maximum speed to less than 20 m/ph in hilly terrain, which is not only dangerous because you can't keep up with other traffic, but it also puts severe loads on the engine and transmission, which in turn, causes accelerated mechanical wear.
Many dealers will allow you take a 50cc scooter for a test drive, and we strongly recommend that you take advantage of this to ensure that your chosen model will have enough power to cope with the terrain and traffic of your town or city, as well as the loads you will be carrying.
Which 50cc scooter is best

?

The high prices of some scooters do not always translate into increased reliability and/or durability. Many reasonably priced scooters offer excellent quality, reliability, and low operating costs, which are features that are all too often absent on expensive models. For this reason, we have listed here four possible choices of 50c scooters that we believe offer excellent value for money.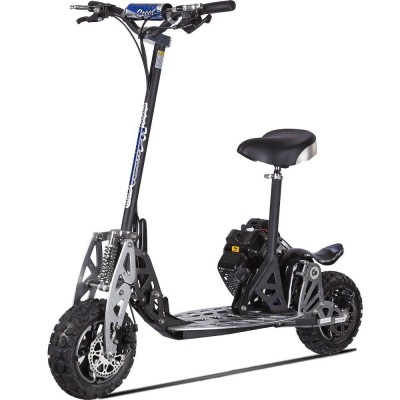 UberScoot (Evo) 50cc Powerboard – Evo-2x-Big
UberScoot Powerboards, previously known as Evo Powerboards, has produced an elegant solution to fill the gap between skate boards and proper scooters. However, state-of-the-art design, advanced manufacturing processes, and top-grade materials have been combine to produce a power board that is widely accepted as the gold standard in power boards.
The Evo-2×-Big offers several technological advances that in the words of the manufacturer "…make all other brands of scooters seem obsolete." Below are some of the features of this technological marvel;
Product features
Fully functional, front "Cam-Link" suspension that offers improved safety, comfort, and stability.
2-speed transmission with a thumb-sifter
NOTE: Although the manufacturer claims that this is the first scooter in the world with a manually selectable transmission, be aware that many states specifically prohibits any, and all external gear shifting devices on 50cc scooters.
Reinforced frame for added strength
Proprietary One-Touch Chain Tensioning device that eliminates the need for rear-wheel alignment after drive-chain adjustments.
Disc brakes on both wheels
Forged aluminum rims on both wheels
11-inch, oversize Knobbly Dirt Tires on both wheels
NOTE: Some states require a minimum wheel diameter of 14 cm. Check with the authorities in your state before ordering this scooter.
Height-adjustable handle bars
Technical specs
2-speed, manually selectable transmission
50cc, 2 HP, EPA-approved two-stroke engine
Seat included
Maximum speed: 30+ m/ph
NOTE: Almost all states limit the max speed of 50cc scooters to 30 m/ph. Check with the authorities in your state on the legal issues of a higher top speeds before ordering this scooter
Maximum allowable load: 265 lbs
Maximum range: 20 miles per tank of fuel
Gross weight: 58 lbs
Nett weight: 53 lbs
Warranty: 60-day parts replacement warranty by manufacturer
NOTE: Some states may prohibit the use of this scooter on public roads because it has a manually selectable transmission. This scooter is not available for sale in California because it is not C.A.R.B. approved.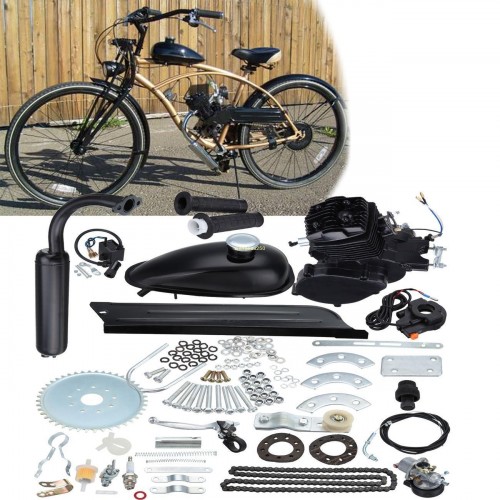 50cc 2-stroke Engine Conversion Kit for Bicycles
This kit includes everything you need to convert any 26"-, or 28"-inch bicycle into a sort of scooter. The kit includes a complete, but partially disassembled engine, all mounting brackets, fasteners, and a gas tank. Detailed instructions on mounting the engine and other components are included in the box.
The biggest attraction of this option is its price; for about $120 (plus shipping), you get a motorized bicycle that takes the pain out of cycling uphill. However, be sure to check with the authorities in your state on the legalities of using this conversion on public roads, since the kit does not come with lights or turn signals, so it may not be street legal in some states.
Product features
50cc, two-stroke engine that delivers 1.5 HP at 5000 RPM
Driving ratio: 18 : 1
Maximum speed: 18 m/ph
Max oil consumption: 0.39 gal/60 miles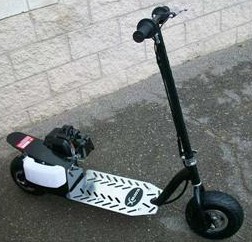 Xracer Gas Scooter 2 Two Stroke All Terrain 50cc
This Xracer is not your usual run-of-the-mill scooter. It is designed and built primarily for use in the off-road environment, and as such, it does not come with the lights and other paraphernalia that could be required to make it street legal. Be sure to check the legality of using this scooter on public roads with the authorities in your state. This scooter is not available for sale in California.
Product features
49cc, upgradeable, two-stroke engine
Automatic, centrifugal clutch
Disc brakes on both wheels
Chain driven
10-inch racing tires
Aluminum deck
Height-adjustable handle bars
Maximum allowable load: 200 lbs
Maximum speed: 25 m/ph
Warranty: 30 day warranty, and life-time technical support offered by manufacturer.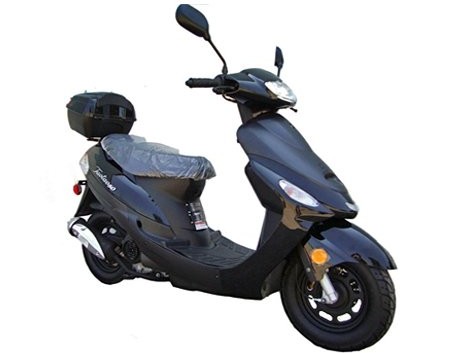 Tao-Tao ATM50-A1 50cc Gas Scooter
This scooter comes about 80% pre-assembled, but the crate includes clear, and comprehensive assembly instructions on DVD. The scooter is fully street legal in most states, including California.
Product features
50cc, two-stroke engine
Maximum speed: 35-40 m/ph
Fuel consumption: 100-110 MPG
Matching cargo trunk is included
Scooter offers comfortable seating for both driver and one passenger
Warranty: Manufacture offers a 30-day warranty on parts, but a full, one-year warranty on the engine and transmission.
One more thing:
Although 50cc scooters offer a great way to get around on a mere whiff of gasoline, they are nevertheless not toys, and should be treated with respect. A fall from a scooter at 30 m/ph is no laughing matter, so be sure to wear full safety gear at all times, even in states where wearing crash helmets is not a legal requirement.
Moreover, 50cc scooters are seriously lacking in power, which makes it all the more important to learn to read the traffic from the perspective of a scooter seat. An error in judgment can cause serious injuries when you get run over because you could not accelerate fast enough to avoid a dangerous situation.
So be careful, keep a sharp lookout for potholes, and avoid riding close to buses and trucks because  they have large blind spots in which their drivers cannot see you, but above all, enjoy the ride!