Buying your first motorcycle? Adding a new one to your collection? Whatever your case, we have found 5 of the best 250cc motorcycles available.
This article will talk about the motorcycles we have chosen. Leave a comment down below if you have any questions.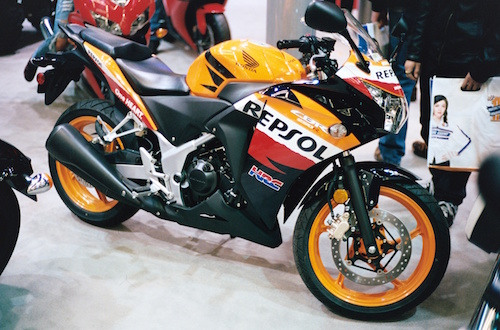 Honda CBR250RR
At this time, there is not much known about the latest iteration of the iconic Honda CBR250RR motorcycle, except to say that apart from the name, there is virtually nothing the new version has in common with the "Baby Blade" of the 1990's.
According to reports, the prototype, or concept model was unveiled by Honda Motor Co. at the 44th Tokyo Motor Show late in 2015, and production is rumored to have started in Indonesia in March of 2016.
The new  model is said to be fitted with a 249cc, liquid-cooled 2-cylinder engine that is expected to produce about 36+ BHP, and 25+ Nm of torque through a six-speed transmission at 14 000 RPM.
In addition, the Ohlins suspension is set up to provide excellent handling, especially on the track, and  significant weight savings were made possible through the use of carbon-fibre for the fairing and panels.
Note however that reports from the Tokyo Show indicate that the advertised weight  of the CBR250RR, which is said to be 313.1 lbs (142 kg), could change on the production model.
Specs:
Disc brakes on both wheels, with ABS functionality said to be under consideration for all markets.
USD shocks on the front suspension.
Swing arm on the rear suspension.
17-inch alloy wheels, front and rear.
In terms of styling, the following quote is from official Honda sources:
'Designed with the key phrase "strong presence," this next-generation super sport concept model and features a look possessing a sense of speed that comes from its long nose and low crouching position.
The combination of a plane architecture, which indicates the sense of hardness and solidity, and sharp edges emphasize the aggressive look of this model.
Moreover, the exterior featuring matte-black-based low-contrast graphics expresses beauty and the remarkable form.'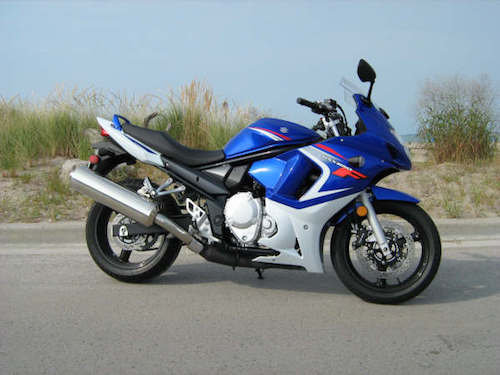 Suzuki GSXR 250
Like the Honda CBR250RR, nothing is known for sure about the Suzuki GSXR 250 beyond spy shots leaked from an assembly plant in China.
Based on leaked pictures, the GSXR 250 draws much of its design inspiration from the bigger GSX-R1000, with the headlight a near-carbon copy of the light on the bigger bike.
In terms of styling, the GSXR appears to be designed as a combination sport/tourer, rather than a pure sport model.
While the instrument cluster seems to have been pulled of an Indian-market Gixxer 155, the GSXR sports newly designed clip-on handle bars, newly designed split seats, and a "muscular" fuel tank.
Production of the new GSXR is expected to begin during 2016, although it is not certain exactly when this will happen.
Equally uncertain are details of the engine and other design features, but its liquid-cooled, single-cylinder 148cc engine is expected to develop around 30HP and 24Nm of torque (through a 6-speed transmission) although how accurate this estimate is remains to be seen.
What is fairly certain though is that the GSXR will receive ABS brakes on both wheels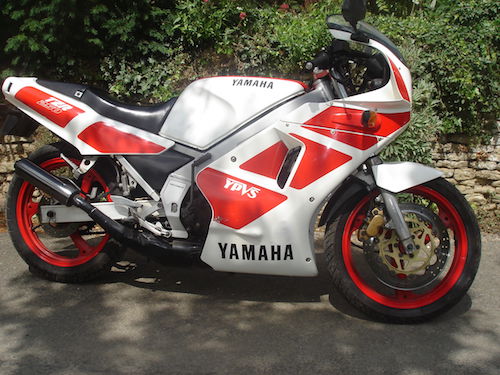 Yamaha TZR 250
Although the Yamaha TZR 250 has long been out of production, it remains one of the best motor cycles in the 250cc class ever produced by any manufacturer.
Between 1986 and 1996, Yamaha produced the TZR 250 as a road-going version of the TZ250 racing bike, using parallel twin 2-stroke, reverse cylinder, and V-twin engines for various markets and applications.
Designed as a natural successor to the highly successful RD 250/Yamaha RD350LC series of motor cycles of the 1980's, the two stroke engines of the TZR used Yamaha's proprietary Power Valve System that adapted  the height of the exhaust port  in response to power demands.
Below are some specifications for the 1986 model year:
Engine: Liquid cooled,  249cc 2-stroke parallel twin cylinders
Ignition: Electronic CDI
Starter: Kick-start
Max power: 50 hp / 36.4 kW @ 10000 rpm (Claimed)
Max torque: 5 Nm / 26.2 lb/ft @ 9750 rpm
Transmission: 6-speed
Front Suspension: Telescopic fork adjustable preload (140mm wheel travel)
Rear Suspension: Coil and gas spring 9-way preload position (100mm wheel travel)
Front Brakes: Single, 320mm disc with a 2-piston caliper
Rear Brakes: Single 210mm disc with a 1-piston caliper
Wheel size: Front 100/80-17 | Rear 120/80-17
Wet Weight: 6 lbs ( 140 kg)
Fuel capacity: 2 gal ( 16 liters)
The result was performance that was outstanding for standard engines of this size, but with some modification, the TZR250 could seriously hassle 750cc motor cycles in terms of acceleration, if not top speed. Power output of around 44-45 BHP at 9 500 RPM was the norm in standard trim, although some performance packages raised power output to 50+BHP at 10 000 RPM.
In terms of handling, the Yamaha TZR offered rock-solid road holding, and predictable responses to uneven surfaces, characteristics that still make the TZR the standard to follow in this class.
Its styling may by now be out of date, but overall, the Yamaha TZR 250 does not need frills and gadgets to provide a safe, comfortable, and reliable ride.
The following quote from one reviewer of the Yamaha TZR perhaps says it all "…. I really don't think you can fault it – you can slam it into corners with the brakes full on and it'll still go round, with the only protest coming from the tires.'
However, finding a Yamaha TZR 250 in reasonable condition today to put this verdict to the test might be problematic (as will replacement parts), but the search will be well worth it.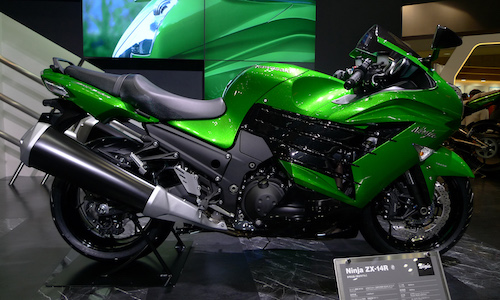 Kawasaki ZX 2-R
Also known as the Kawasaki ZXR 250, and Kawasaki ZXRR, the ZX 2-R was a 249cc, inline four stroke motorcycle that was in production between the years 1988 and 1999. However, this motorcycle was never officially sold in the United States, although a few examples may have been imported privately by some individuals. Its main market was Japan, Australia, and a few South-east Asian countries.
Like other motorcycles in this class at the time, the Kawasaki ZX 2-R was noted for its aggressive styling, and  for its time, highly advanced engineering that included inverted forks on the front suspension, large 18-inch wheels, and an engine that could happily run at 20 000 RPM for extended periods.
Below are some specifications:
Engine: Liquid cooled, 249 cc (15.2 cu in) 16-valve (DOHC) inline-4 cylinder
Induction: 4x Keihin CVK D30 carburetors
Maximum power: 45HP (33 kW) at 15 000 RPM
Maximum torque: 25 Nm (19 lb/ft) at 11 500 RPM
Transmission: Constant mesh, 6-speed
Front suspension: Inverted telescopic fork with 120 mm (4.7 in) wheel travel
Rear suspension: Swing arm with Uni-trak single shock with 113 mm (4.4 in) wheel travel
Brakes: Front- Dual 300mm discs, dual caliper | Rear- single 230mm disc, single caliper
Dry weight: (317 lb) 144 kg
During  the time it was in production, Kawasaki claimed a power output of 45HP (33 kW), although models sold in the Japanese market were restricted to 40HP (30kW) after 1993, due to a change in local laws relating to engine power.
A SP (Sports Production) model known as the ZXR-250R became available from 1990 to 1993. This variant had more sporty gearing, larger carburetors (32mm) than regular models, more aggressive ignition mapping from a reprogrammed CDI, and some cosmetic changes, most notable of which was the introduction of twin headlights.
Examples of Kawasaki ZX 2-R motor cycles in running condition are exceedingly rare in countries outside of their traditional markets, but when an example does become available, be prepared to pay a high premium due to its status as a collector's item.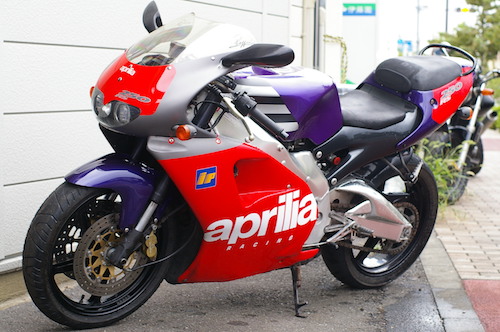 Aprilia RS 250
Although the Aprilia RS 250 is classified as a "learner" motor cycle, it would be a huge mistake to ride this bike as a trainer. This is a full-blooded racing machine, and the nearest thing to a pure-bred racing bike available anywhere. In fact, the Aprilia RS 250 has won every championship on offer in Australia for its class, which says more about this motor cycle than any number of words ever can.
Below are some specifications:
Engine: 249 cc, liquid-cooled, V-twin two stroke
Bore x Stroke: 56mm x 50.6mm
Induction: 2 × Mikuni TM34 SS/2 carburetor
Maximum power: 00 HP (40.1 kW)) at 11000 RPM
Maximum torque: 00 Nm (25.8 ft.lbs) at 10 700 RPM
Transmission: 6-speed
Top speed: 1m/ph  (203.0 km/h)
0-62 m/ph (0-100 km/h): 4.3 seconds
Brakes: Front- dual  7- inch (298 mm) discs with dual calipers |Rear- single disc and caliper
Wheel size: Front- 120/60-ZR17 |Rear- 120/60-ZR17
Wet Weight: 4 lbs (168.0 kg)
The RS 250's 249cc two-stroke engine represents the pinnacle of two-stroke development, and this particular version puts out 55HP, which translates into 240BHP per litre, making it more powerful per cc than proper MotoGP bikes, and placing it on a par with the F1 engines of ten years ago. Sadly though, 2004 saw the last production batch of the Aprilia RS 250.
In terms of handling, the Aprilia is in a league of its own, with road holding that has been described as "…being like train on  a track." However, the six-speed transmission is geared for track use, which requires a minimum of 8 000 RPM to get the most out of the bike's 60HP. Thus, the Aprilia does not make a good road bike, and especially in city traffic where engine speeds below 8 000 RPM makes it feel more like a 125cc moped than a racing machine.
Final Notes
Nonetheless, once it gets up to speed, the combination of excellent handling and perfect brakes makes for a safe, comfortable, and above all, exhilarating ride. Sadly though, the frame and suspension setup is not designed to carry a passenger, which could induce unpredictable behavior while cornering and braking.