In search of the perfect helmet camera?
In this article, we'll be going over 5 cameras perfect for your next motorcycle journey.
Enjoy!

GoPro HERO
The GoPro HERO makes it easy to capture, and share your rides with family and friends with the GoPro app. This rugged camera has a well-deserved reputation as being one of the best helmet cameras around, and depending on the memory capacity installed, it can continuously record 1080p30 / 720p60 video for up to 140 minutes.
Product features
Compatible with all (60+) GoPro mounts.
Apart from high definition video, the GoPro HERO also takes 5 mega-pixel pictures through an Ultra-wide Angle lens.
Camera can also take Time-lapse and Burst pictures up to 5 frames per second.
Supports external memory via Micro SD cards of up to 32MB capacity. Note that class-10 or UHS-1 technology is required. Memory cards are sold separately.
Camera is waterproof up to 40 meters (131 ft).
Camera requires one lithium ion battery, which is included in the box.
Camera comes with a 2-year warranty that runs from the date of purchase.
The GoPro is also fitted with audio recording capability, so you can record a running commentary on the sights you encounter while exploring the back country.  This camera is built into a sturdy housing that makes it water-, and dust proof while eliminating vibrations.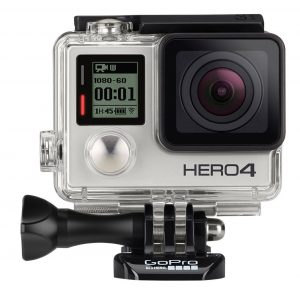 GoPro HERO4 Silver
With the HERO 4 Silver helmet camera, you can capture your rides with high-definition, 1080p60, /720p120 video, as well as ultra-lifelike 12 megapixels-still pictures at up to 30 frames per second. Play back is equally easy via the tap and swipe screen.
A notable feature of this camera is that allows the user to create short "highlight" video clips on the camera, without the need to download the video onto another device.
This makes it easy to share content on the go, but also to "bookmark" key moments via the HiLight Tag feature, which makes finding memorable moments  a breeze later on.
What's in the box?
– HERO4 Silver Camera With Built-In Touch Display
– Standard Housing 131'(40m)
– Skeleton + Touch Backdoors
– Rechargeable Battery
– Curved Adhesive Mount
– Flat Adhesive Mount
– Quick Release Buckles
– 3-Way Pivot Arm
– USB Cable
Specifications:
Built-in touch display for easy camera control, shot-framing and playback
Professional 1080p60 and 720p120 video with 12MP photos at up to 30 frames per second
Built-in Wi-Fi and Bluetooth support the GoPro App, (available from the App Store) Smart Remote and more
Improved camera control and built-in video trimming lets you create and save short video clips right on your camera
Protune(TM) with SuperView(TM) delivers cinema-quality capture and advanced manual control for photos and video with the world's most immersive wide-angle field of view
1 Lithium ion batteries required. (included)
This camera is the perfect marriage between high-performance video imaging and ease-of use, with the added advantage of a touch screen.
Product features:
Camera features built-in Wi-Fi and Bluetooth capabilities, both of which support the GoPro App and the Smart Remote, which takes the hassle out of sharing content while on the go.
Capture your world with HERO4 Silver, the high-performance GoPro with a built-in touch display. Controlling the camera, framing shots and playing back content is ultra convenient—just view, tap and swipe the screen.
HERO4 Silver captures 1080p60 and 720p120 video with lifelike clarity, plus 12MP photos at a staggering 30 frames per second.
Built-in video trimming lets you create and save short highlight clips for easy sharing. HiLight Tag enables you to mark key moments to make them easier to find later. Waterproof to 131' (40m), HERO4 Silver combines versatility and high-performance capture with the convenience of a touch display.

YI Action Camera
With this pocket camera, you are ready for anything; mount it on your helmet while riding, mount it on your dash as a dash cam, or even take it along when next you go diving or snorkelling.
This camera is fitted with the world-leading Ambarella A7LS image processor, Sony's Exmor 16 megapixel R BSI CMOS sensor, and a, 1550  , F2.8 aperture all-glass wide angle lens.
Product features
Camera is equipped with the Ambarella A7LS chipset, as well as low-power digital signal processing (DSP) technology, HD H.264/ MJPEG video engine, and a 700-MHz ARM11 applications processor.
Built-in Wi-Fi (single band 2.4G) and Bluetooth (4.0BLE low power consumption) technology allows the user to take pictures, and capture video from up to 300ft away using a smart phone. Thus, what the camera sees can be captured from a distance with a compatible phone. The available app also allows the user to control settings on the camera via a compatible phone.
Camera supports 11 video modes- 1296p – 30fps 1080p – 60fps, 48fps, 30fps, 24fps, 960p – 60fps, 48fps. 720p – 120fps, 60fps, 48fps.  480p – 240fps.
Four photo modes are supported: normal, time-lapse, self-timer, and burst mode.
Warranty information is available from the manufacturer. However, be aware that only models marked as optimized for the US market carry a warranty. Non-US market models may be counterfeit, and as such, will not be guaranteed by the manufacturer.
The combination of these class leading technologies, and other such as image stabilization, noise/blur reduction, and motion compensation,  gives you clear, crisp high resolution images in all 11 video modes, and four photo modes- even in low light conditions.
Moreover, the built-in Wi-Fi and Bluetooth capabilities are optimized for the US network, environment and household current.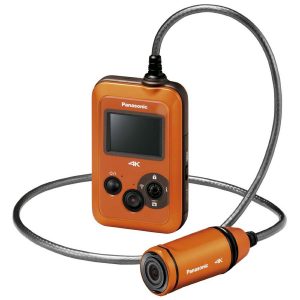 Panasonic HX-A500E-D Camcorder
Consisting of two parts, a control module and the camera itself, the Panasonic HX-A500E-D is said to be the world's first true, wearable HD camcorder.
The camera attaches to a headset at about eye level, meaning that it sees everything the wearer sees. Data is transmitted to the control unit via a 70cm-long USB cable.
Product feature
Camera offers a maximum resolution of 3 840 x 2 160.
Camera is fitted with a 12.7 megapixel sensor.
Control unit features a 1.5-inch screen with 115 200 dots.
Supported video format is MPEG-4 AVC/H.264.
Camera offers a battery life of 2hours 42 minutes.
Camera is dust proof, and water proof up to a depth of 1meter (3.2ft) for a maximum of 30 minutes.
External memory is supported with SD Micro SD, and Micro SDHC memory cards.
Camera offers Wi-Fi control though iOS and Android apps.
One lithium ion battery is included.
Camera comes with a 1-year warranty.
The control unit is meant to be worn on a supplied armband, and the headset, which is fully adjustable seems sturdy, and solid enough to prevent the camera shaking about too much when engaging in strenuous activities such as mountain biking, but it is recommended that the camera be mounted in a special bracket that bolts on the handle bars of bikes or motorcycles.
At 25 frames per second, the HX-A500H captures video at a resolution of 3 842 x2 160 pixels, but lower resolutions can increase the frame rate to as much as 200 frames per second, which is great if you want to capture the action in slow motion.
However, the 160-degree wide angle setting results in severe barrel distortion, although all movement captures in whatever setting is smooth, and free of any jerkiness.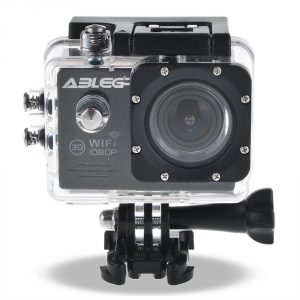 SJ5000 Novatek Wide Camera
This heavy duty, fully waterproofed  camera allows you to film deep dives up to 30 meters (98ft) through a 2.12 megapixel ,HD 170 degree wide angle lens.
Video is recorded in MOV format, but output is in high definition HDMI. External video storage is supported with Micro SD cards up to 32 GB, and video encryption s enabled.
Recording time is about 70 minutes at 1080P, with several video recording formats such as 1080P/720P, and WVGA also available. The camera is equally at home in bright sunlight and low-light conditions, such as where it is used for domestic security surveillance applications.
Product features
0LTPS liquid crystal display.
Video playback is in ultra-high definition on a 2-inch screen.
170 degree A+HD wide angle lens with 4 × digital zoom.
Supported video resolutions are 1080P (1920*1080), 30FPS 720P (1280*720), 60FPS
VGA (848*480), 60FPS VGA.
246 compressed video format.
Available picture resolutions are 12MP, 8MP, and 5MP, with a 12 MP CMOS sensor for excellent picture quality, regardless of the selected resolution.
Operating system(s) : Win XP/Vista ,Win7/Mac OS.
Camera comes with a variety of accessories, including several mounts, and a waterproofed casing.
One notable feature of this camera is the many supported languages, among which is English (default), Russian, German, French, and even Chinese- in both Simplified and Traditional versions.
Final Notes:
Enjoy learning about the best motorcycle helmet cameras?
If so, please share this on social media. It helps out tremendously.