Everyone knows that American-made pick-up trucks can pull mountains from the East Coast to the West Coast with no trouble at all, but the problem with that is that since all pick-up trucks can do it, there is not much to choose between them.  
However, not everyone needs to pull a mountain across the Mid-west, and for those, there exists a large variety of vehicles that can safely haul a boat, camper, or the occasional U-Haul any where you may want to go, but which vehicles that are not trucks do it better than others, given the many possible choices?
Below, and in no particular order, we present you with the best towing vehicles (that aren't trucks) of 2015.
Some of the vehicles on this list are among the best-kept secrets on the roads today, and their towing capacity may come as a surprise.
Nonetheless, if you are shopping for a towing vehicle to explore the country with next summer, this list places to top 10 towing vehicles all in one place, so to speak.
before you make your choice off of this list, there are a few things to consider when buying a towing vehicle. Below, we list the top considerations to keep in mind when you plan on getting a towing vehicle.
Consider the Gross Vehicle Weight Rating:
Every vehicle has a limit as to how much weight it can carry safely, and this is what is known as the Gross Vehicle Weight Rating, or GVWR. Thus, when you look for a towing vehicle, remember that the weight of the passengers, vacation and camping gear, fuel, and everything else you are taking along must not exceed the GVWR.
More importantly though, if this all-up weight adds up to more than about 80% of the GVWR, and you are going to tow a trailer that is close to the legal towing capacity of the vehicle, you are going to be operating on the limits of safety.
The better choice in such a case would be to get a bigger vehicle with a bigger towing capacity, or to reduce your all up weight.
Driveline configuration.
There is no doubt that rear-wheel drive is the best option for towing since it offers better traction and stability than any front-wheel drive system.
All-wheel drive on the other hand, may be of use in difficult conditions, but for the most part, these systems are often more trouble than they are worth when it comes to towing.
In many cases, all-wheel drive systems offer reduced towing abilities, but more to the point- all-wheel drive systems are rarely designed to cope with towing loads, and they almost always suffer damage as a result of towing.
If you are considering getting an all-wheel drive system, check with the manufacturer that it offers the same towing capacity as two-wheel drive systems.
Automatic or manual transmission?
We do not recommend that you get a manual transmission if you are not experienced in driving a manual.
Towing places extreme loads on a clutch, and it is easier to destroy a clutch than you might think, so if you are used to driving an automatic, stick with automatics.
However, make sure the towing vehicle is fitted with a transmission fluid cooling system, avoid aggressive driving, and disable overdrive systems to reduce the load on both the engine and the transmission.
Get an engine with loads of low-rpm torque.
Torque is the main consideration when it comes to towing, since torque is what gets you going, and keeps you going.
However, there is little point in getting an engine that develops maximum torque at high engine speeds- you need as much torque as you can get at low engine speeds, since you will be driving at lower speeds than normal.
Diesel engines develop most of their torque at less than 3000 RPM, and in some cases, diesels develop their maximum torque way below 3000 RPM.
Also, be aware of the fact that small engines may have good fuel economy, but when they are used for towing, they can work so hard that you may get a worse MPG figure than you would have done had you used a bigger engine, not to talk about the added wear on a smaller engine.
So with the above four considerations to keep in mind, let's look at some of the better towing vehicles available today.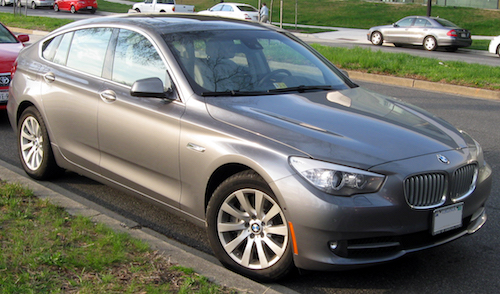 BMW 5 Series Gran Turismo
The 2015 BMW 5 Series Gran Turismo may not be everyone's cup of tea mainly because of its rather awkward, hatchback styling and very hefty sticker price, but for all that, it offers a cavernous cargo storage area by virtue of its design.
More importantly though, this BMW is rated to tow 4 630lbs, which places it in the same league as many trucks.
Buyers can choose between a 300 HP, turbo-charged inline six-cylinder engine, or a twin-turbo V8 that makes an impressive 445 HP, so it is perhaps not so surprising that the BMW is considered to be one of the best towing vehicles on the road today.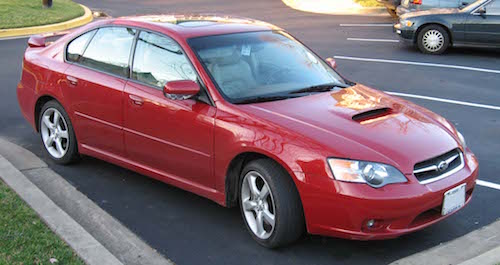 Subaru Legacy
Although the 2015 Subaru Legacy shares most of its mechanicals with the Outback crossover, all of the body cladding has been removed to present a more urban image.
In addition, the ground clearance of the Legacy has also been lowered to match the more stylish look, but perhaps most importantly, much of the reinforcing that stiffened the Outback chassis has also been removed to reduce weight.
However, the 256 Hp (247 lb-ft torque), 3.6 L engine and all-wheel drive system form the Outback are retained, but the slightly less rigid frame means that the Legacy's towing capacity is somewhat reduced, to 2 700 lbs that allows towing a wide variety of utility, and small camper trailers.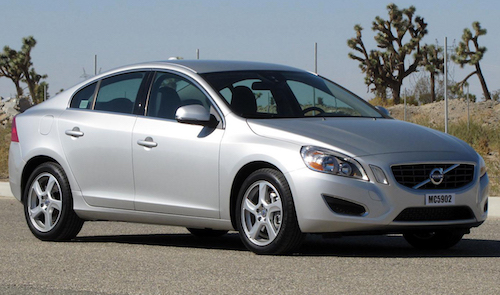 Volvo S60
The 2015 Volvo S60 continues a long Swedish tradition of allowing families to explore the countryside with a  small to medium trailer.
The fact that Volvo's are known for their refinement, reliability, and high resale values, make this the perfect towing vehicle wherever it is sold in the world.
This particular Volvo has a 3.0 L, turbo-charged V6 engine that produces 300 HP and 325 lb-ft of torque, all-wheel drive, giving it a towing capacity of 3 300 lbs, and a plethora of luxury items in its specifications list.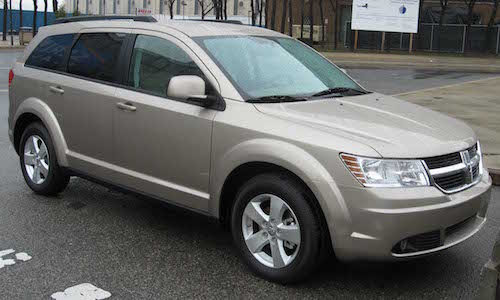 Dodge Journey
Being relatively compact, the 2015 Dodge Journey represents a successful compromise between a minivan and a pure crossover.
It also offers seating for seven passengers, an optional all-wheel drive system, but its best feature is the excellent 3.6-liter Pentastar V-6 engine that produces a respectable 283 Hp, and 260 lb-ft of torque through the new generation eight-speed automatic transmission.
This combination gives the Journey a towing capacity of a 2 500 lbs, but all things considered, the Journey leads the pack of minivans that forms it competition by a large margin in terms of the practical considerations that comes with towing trailers.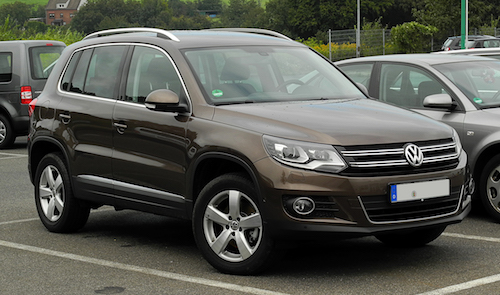 Volkswagen Tiguan
Although the 2015 Volkswagen Tiguan is a competent towing vehicle, its modest towing capacity of only 2 200 lbs will not break any records.
However, its superior handling and good fuel economy more than compensates for the limited towing capacity.
Its 2.0 L turbocharged engine is good for 200 Hp and 207 lb-ft of torque, but don't consider towing a camper with this Volkswagen- it is far better suited to towing small boats, jet-ski's, and motor cycles to a holiday destination at a good rate of speed, and an even better MPG figure.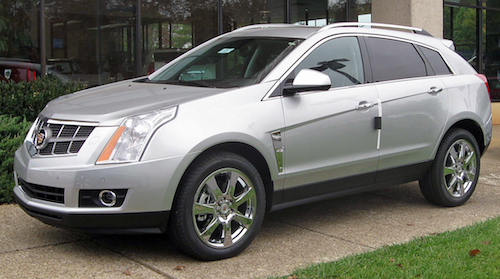 Cadillac SRX
As a towing vehicle, the 2015 Cadillac SRX offers an excellent coming together of a daily driver, and the added security during towing that comes with all-wheel drive.
Moreover, the combination of comfort and handling that is measurably superior to its mid-sized competitors, makes the SRX an excellent towing vehicle for longer trips.
Using the same 3.6-liter V-6 engine fitted to the bigger Chevrolet Traverse that makes 308 Hp and 265 lb-ft of torque, the Cadillac SRX has a towing capacity of 2 500 lbs, which compares favorably with the towing abilities of some V8-engined crossovers and SUV's.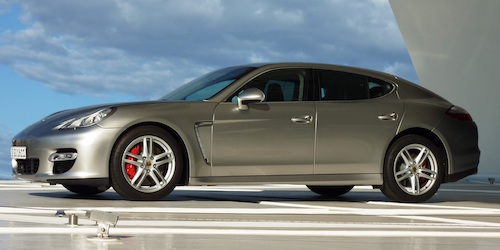 Porsche Panamera
Although purists may consider using a Panamera as a towing vehicle as a form of sacrilege, the fact is that the 2015 Porsche Panamera is an excellent towing vehicle, and they are often put to towing campers and horseboxes in Europe, where German drivers demand multi-role capabilities from their cars.
What makes the Porsche Panamera so successful as a towing vehicle is the fact that it comes with a large selection of drive-train layouts and options- from a hybrid arrangement, to a monstrous, 550 Hp turbo charged engine that outperforms most other supercars.
However, this engine is considered to be too powerful for safe towing (even by the Germans), and most drivers prefer the 440 Hp V8 engine that gives the Porsche Panamera an astounding 4 850 lbs owing capacity, which is way above the American average towing weight of a mere 3 500 lbs.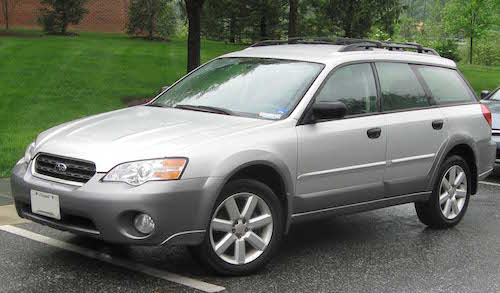 Subaru Outback
The 2015 Subaru Outback has a well-deserved reputation as a wagon with above-average off road capability, and it is generally considered to be the ideal crossover for families that make regular excursions into the country.
In addition, its all-wheel drive system copes better with snowy conditions than most comparable vehicles.
The Outback's 3.6 L, six-cylinder engine churns out a respectable 256 Hp, and 247 lb-ft of torque, which gives it a towing capacity of 3 000 lbs- making it the perfect towing vehicle for utility, or small camper trailers.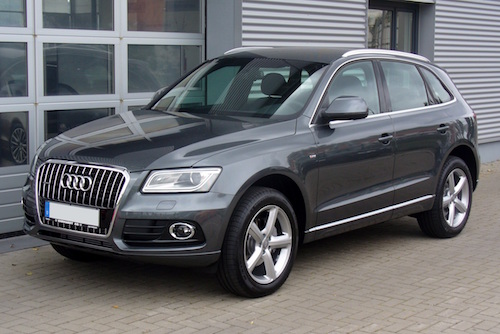 Audi Q5
The 2015 Audi Q5 isn't as big as the Chevrolet Traverse, and at first glance, its relatively compactness would suggest that it does not offer much in the way of towing capacity.
However, first impressions can be misleading, and as with all German vehicles, the Audi Q5 can perform several functions flawlessly.
Fitted with the V6 3.0 L, 272 Hp engine that develops 295 lb-ft of torque through an eight-speed automatic transmission, this Audi has a towing capacity of 4 400 lbs, which is why it is one of the most popular towing vehicles in Europe, where drivers rarely consider trucks to be the best vehicles with which to tow heavy campers.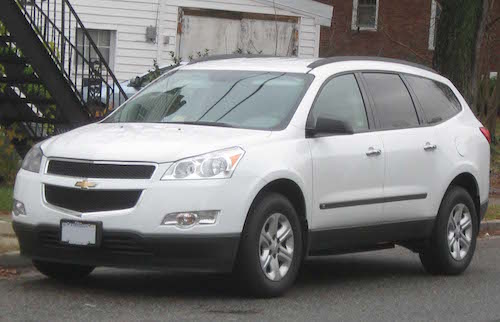 Chevrolet Traverse
The 2015 Chevrolet Traverse is about the biggest you can go with a SUV without crossing over to truck-based vehicles; however, despite its bulk, the Traverse is more like a car in terms of handling and driving characteristics than almost any of its competitors, and that includes competitors that are significantly smaller and lighter.
Offering comfortable seating to eight passengers, the Traverse has a towing capacity of 5 200 lbs, by virtue not only of its V6, 3.6L engine that develops a respectable 288 Hp and 270 lb-ft of torque, but also because of its long wheelbase that provides exceptional stability under towing conditions.
Enjoy this article? We'd appreciate it very much if you could share it on social media.
Thank you!