Which Cars Make Good Company Cars?
3 Top Cars To Consider For Your Company Fleet.
There are many factors to consider when you are buying cars for your company fleet, but in an equation were all things are nearly equal, the BIK tax liability of company cars is perhaps more important than any other factor.
Taxation on cars forms a large part of the annual running costs of company fleets, but more importantly, it has a significant impact on any company's bottom line.
Car manufacturers are well aware of this fact; however, they are also aware that fleet purchases make up nearly 50% of all new car sales in the UK (It's a close number in the US as well!), which is why car manufacturers often include bespoke models in their ranges that are designed with business users in mind.
So to help you make the right decision on which car is right for your business, we present you with three possible choices that cover your needs from junior, rep-level, right up to executive level.
Vauxhall Insignia 2.0 CDTI 140 ecoFLEX
Best company car between £15,000 to £20,000?
Since reps and consultants are the face of any company, it makes good sense to have them look their best when they arrive at their destinations.
Moreover, since reps drive long distances to service their clients to is only fair to give them cars that get them to their clients safely and comfortably.
One such car is the Vauxhall Insignia, and while there may be other cars that can do much the same thing, the fact is that there are more Vauxhalls in company fleets than are privately owned, which must mean something, so why not consider the Vauxhall Insignia for your fleet as well?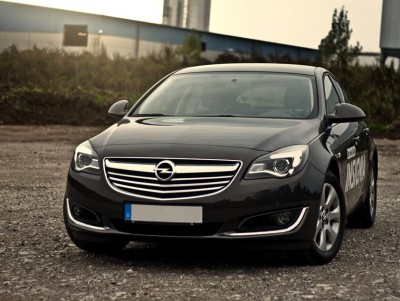 Overview:
Vauxhall has always produced cars that address the needs of both private users and the business community, but the Vauxhall Insignia takes this one step further.
The interior and ride quality, which were always one step ahead of its rivals, now come close to executive cars that have double the price tag.
Reps and consultants spend more time behind the wheel than in the office, which is why driver comfort should be the main consideration when considering cars for company use.
In the case of the Vauxhall Insignia, the driver gets a super-smooth 138 hp, 2.0L CDTI diesel engine with stop-start that reduces emissions to  a mere 98g/km, which places it in the small-car league that attracts a very low tax liability.
The top-end trim level include cruise control, DAB radio, and electrically controlled lumbar support t0 make driving long distances even more comfortable.  
Performance and driveability.
Although the Vauxhall Insignia is one of the most comfortable cars in its class, it is not quite as sharp in the handling department as some of its main competitors are.
However, the latest upgrades to the suspension smooth out all but the biggest bumps, which means that the ride quality is among the best in this class.
In general terms, the Insignia cannot be faulted as a long distance tourer and although road holding and handling are adequate, with above average grip and a decent turn-in when cornering hard, the Insignia does not inspire the same level of confidence as the Mazda 6, which is perhaps its main rival.
The power steering does not provide a whole lot of feedback, with the result that cornering can feel mushy, and the high degree of body roll can upset the car's balance during tight, high-speed cornering, especially on bumpy or rough roads surfaces.
Nonetheless, the VXR trim level features the HiPerStrut suspension system that offers almost unbelievable grip, markedly reduced body roll, and improved steering feedback.
MPG, CO2/running costs.
Although company fleets account for most Vauxhall Insignia sales, it is easy to choose the wrong model if emissions tax is the overriding factor in the selection process.
From a BIK tax perspective, the most sensible choice would be the range of ecoFLEX diesel engines, and in particular, the 1.6 model.
This engine produces only 99/km of co2 emissions, and boasts a 74.3 MPG figure, but to achieve this the car must be fitted with the optional 17-inch wheels and low resistance tires.
Nonetheless, these figures have been improved upon by the Ford Mondeo, which has been tested to achieve 78.5 MPG, and emissions of 94g/km.
Among the gasoline engines, the 1.4 turbo engine is the most economical, both in terms of tax liability and fuel consumption. MPG for this engine tops out at 54.3, with emissions of 123g/km.
Comfort, practicality and luggage space.
As a company car, the generous amount of leg room for rear-seat passengers is perhaps not so important as the huge amount of luggage space the Insignia range offers.
Many reps and consultants have to carry samples, product literature and the like and in this area, the Vauxhall Insignia is one of the most practical cars in its class.
Although some modern rivals offer more space, the fact that most Insignia sales are made to company fleets means that the combination of comfort, practicality, and ease of use is more important to fleet managers than the marginally more space offered by competing car brands.
Reliability and Safety
Although the Vauxhall Insignia placed a lowly 166th in reliability tests carried out by Auto Express Driver Power in 2015, company cars are replaced regularly, which means that reliability alone should not be the deciding factor in the choice of models for any company fleet.
Company cars are typically replaced every two years or so, which makes practicality, usability, and comfort more important factors in the equation.
For instance, there are no substandard materials in the  interior, which despite its age, still makes a good impression, with everything within easy reach of the driver. Higher-end spec models come with full leather upholstery, and plusher trim than mid-range and entry-level models.
In terms of driver protection, the Insignia is not far behind it's more modern rivals, and it offers six airbags, ESP, and two Isofix child seat mounting points as standard equipment. However, even though Euro NCAP awarded the Insignia a 5-star safety rating with an overall score of 94%, no Insignia model has been tested since 2009.
Vauxhall also offers advanced safety features as optional extras that include park-and-go technology, blind spot and rear traffic monitoring systems, and a rear-view camera.
Depreciation
Although the Insignia is one of the worst performers in the resale value stakes, Vauxhall offers large discounts and high levels of safety equipment as standard, which makes the Insignia an attractive option as a company car.
Company fleets are seldom older than two years, which translates into still-reasonable resale values after a couple of years of service.
Insurance.
In terms of insurance costs, the Insignia attracts some of the lowest rates in its class, but the actual rate is model-dependent.
For instance, the hugely popular 1.6 CDTi ecoFLEX falls into group 17E, while the 1.4T falls into the much more reasonable group 15E.
At the top end of the range, the 2.8 L VXR model falls into group 36E, which is high enough to erode any advantage this particular model may have over its competitors in terms of purchase price.
Audi A6 2.0 TDI Ultra SE S tronic
Best company car between £25,000-£35,000.
The BM 5-series may be a worthy rival to the hugely popular Audi A6 as far as mid-level company cars go, but the Audi has several things going for it that the BMW does not.
One disadvantage the BMW faces is the fact that resale values are severely affected by the quick succession of new models, while the Audi retains high values, and mostly because of the fact that it has not changed appreciably during the past few years. As a company car for mid-level managers, the Audi A6 is a hard act to follow, and here is why: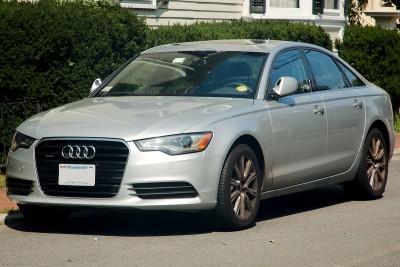 Overview:
The Audi A6 needs no introduction. Its sleek styling, excellent handling and above average performance have always combined to make it a hugely popular choice to both private buyers and company fleet managers.
Moreover, given its high resale value, it might just be the best-value company car in its class in the world today.
Its main attraction is its vastly improved 2.0L diesel engine that delivers more power, in less time than ever before, but in addition, fuel economy is now down to a miserly 67.3 MPG, and emissions have been reduced to just 109g/km.
Nonetheless, even the basic models ooze exec-appeal, which makes  Audi A6's  a hit in any office parking lot.
Audi also has a well-deserved reputation for the under-stated quality of their car interiors, and the A6 interior is no exception.
It is fair to say the that A6 interior is at least one cut above that of its main rival, the BMW 5-series, and in terms of standard equipment, the A6 comes with satellite navigation, bi-xenon headlights, and full leather upholstery.
Overall refinement and superior handling characteristics are of course also included.
Performance and driveability.
The driving experience in an A6 is hugely enhanced by the extensive use of aluminium in its construction, and while the steering does not quite match that of the BMW 5-series or the more expensive Jaguar XF, it is nevertheless precise, and inspires confidence even on the roughest of roads.
However, being a front-wheel drive, the A6 is not as well balanced as its competitors are, but the difference is small, and unlikely to be noticed by non-professional drivers.
Ride quality is perhaps not as smooth as could be expected, with the lowered, and firmer suspension settings and larger wheels on the S-line models that  do not do much to smooth out bumps, potholes, and other irregularities on urban roads.
However, the SE-spec models offer Dynamic settings (at no extra cost) that smoothes out any road, although handling during hard cornering is not as precise as with the firmer S-spec models. Adaptive air suspension is available as an optional extra, but the £2 000+ price tag seems a bit steep.
MPG, CO2/running costs.
While the Audi A6 comes with wide range of engines and power outputs, the A6 Ultra comes with the  187-hp 2.0L TDI engine that delivers 67.3 MPG, and only 109g/kg of emissions.
From  a BIK tax perspective, this is the perfect choice since in this trim,  the A6 is non-taxable during its first year of use.
Other engines are available, but as can be expected, MPG decreases, and emissions increase in direct proportion to the capacity of the engines, which in turn, bear directly on tax liability.
Other engine options include three, 3.0L diesels in various states of tune:  215 hp (60.1MPG and 122g/km CO2), 268 hp (55.4 MPG and 133g/km CO2), and 312 hp (47.1 MPG and 159g/km CO2).
Comfort, practicality, luggage space.
Although the youngest iteration of the A6 is somewhat shorter than previous models, rear leg room is not compromised in any way.
Moreover, the latest models are wider than earlier versions, which makes for plenty of interior space, and thanks to large windows, the A6 does not feel nearly as claustrophobic as the interiors of some of its main competitors.
The A6 also offers 530 liters of luggage space, which is markedly more than that offered by the BMW 5-series, its main competitor.
However, luggage space is slightly less than that offered by the Mercedes E-Class saloon. By collapsing the rear seats, luggage space can be nearly doubled to a massive 995 liters, which compares to some station wagons. 
Reliability and Safety.
Audi received a 5-star Euro NCAP safety rating when it was released in 2011, and it is expected that the latest iterations will continue to receive 5-star ratings, despite the tests now being significantly tougher than they were in 2011.
Audi does offer additional safety equipment such as heads-up displays and night vision, but these options are expensive, and while these systems make driving a whole lot safer, their respective price tags make them unpopular, especially in the company car context.
Depreciation/Insurance.
Although Audi's have traditionally performed very well in the resale value stakes, actual resale values and depreciation is largely determined by the options chosen at purchase.
There is hardly a feature of Audi A6 interiors that cannot be swapped, upgraded, or custom ordered, which means that two cars with similar usage patterns and mileages may fall into widely disparate insurance groups on the one hand, and that resale values of those same cars can differ by a large margin.
However, even though Audi owners are for the most part not overly impressed with the level of service they receive from dealers, the wide range of fixed-price service and maintenance plans have been shown to reduce overall running costs to a measurable degree.
BMW i8
Best Company Car Over £35,000?
Company cars at the top end of the scale should do more than enable reps and consultants to service their clients safely and in relative comfort.
Any high-end company car should project an image- an image of success, innovative management, and prosperity.
While there are many luxury cars that may be able to do this, only one car, the stunning BMW i8, can do it merely by being parked in the office parking lot, and here is why: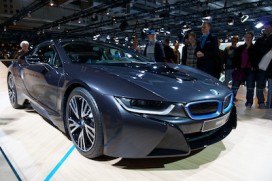 Overview:
It might sound far-fetched, but the BMW i8 will give you supercar performance, the fuel economy of a small hatch-back, and the envy of the entire office park at the same monthly running costs as a Ford Mondeo.
The i8's supercar performance comes from a 228 hp three-cylinder, turbocharged engine that drives a generator to run a 129 hp electric motor.
In combination, the two power sources produce a whopping 570 Nm of torque- enough to propel the i8 to 62 m/ph in a mere 4.4 seconds, and to a top speed of 155 m/ph.
In purely electric mode, the lithium-ion batteries have a range of only 22 miles, but overall emissions are so low that it is almost unnecessary to use only the batteries.
Although the interior does not quite match the stunning body styling, it is nevertheless, and in true BMW style, more spacious than initial impressions would suggest.
It is also finished to the highest standards, and all controls are within easy reach. In summary, it is fair to say that the interior is perfect, and nothing can be added or taken away to improve it.
Performance and driveability.
Hybrid cars are not exactly new, but the BMW i8 is by far the most exciting hybrid that has ever been developed.
The instant response from the electric motor places the i8 firmly in the supercar league, with performance figures that match those of the Audi R8, one of the i8's main competitors in the performance stakes.
The BMW i8 comes with a six-speed automatic transmission, but being a supercar crossed with an environmentally-friendly eco-car, the driver has various options with which to control the interactions between the engine and the electric motor.
For instance, when in Sport Mode, both the engine and the electric motor run at full capacity, the suspension adopts firmer settings, and the amount of steering assistance decreases to provide more feedback from the road.
By contrast, Comfort or EcoPro mode limits the power output from the engine, and will only engage engine assistance during aggressive acceleration, or when road speeds exceed 45 m/ph.
However, regardless of the chosen mode, the transmission delivers seamless gearshifts, and the overall impression is one of a continuous surge of power and acceleration.
In purely electric mode, acceleration drops to the level of a hot-hatch, and range is limited to 75 m/ph, and 22 miles.
Due to the adaptive suspension, the ride quality is above average, and there is almost no wind roar, thanks to the very low,  0.26  drag coefficient.
However, the quiet ride is somewhat offset by the road noise from the tires, but at worst, road noise is no worse than that experienced in any Porsche 911.
MPG, CO2/running costs.
It is well known that manufacturers tend to inflate PMG figures, and the i8's figures are no different, in fact, real world driving conditions make it almost impossible to match clamed fuel economy figures.
However, overall running costs compare favorably with many compact cars, so it is no great hardship not being able to match claimed figures of 135 MPG, and emissions of 49 g/kg. Nonetheless, running costs are largely dependent on driving style, but no matter how hard the i8 is driven, overall running costs are way below that of its main rivals, the Porsche 911, and the Audi R8.
In terms of recharging, the i8 is a winner as well. Standard household outlets can recharge the lithium-ion batteries in under eight hours from completely flat, while a special BMW-supplied charger can charge the batteries from flat to about 80% capacity in under two hours.
While the BMW i8 eliminates almost all of the range related problems of plug-in vehicles, it is very important that battery charges are monitored, and managed.
The i8 may be able to use regeneration to top up the batteries, it has a fuel capacity of only 32 liters, which gives it an overall range of only 300 miles, which includes the 22-mile battery range. BMW dealers offer recharging facilities via the car owner's charge card, but the better option is always to keep the batteries fully charged to avoid running out of power.
Comfort, practicality, and luggage space.
Designed more to project an image than for practicality, the BMW i8 naturally does not offer much in the way of luggage space or comfort for rear passengers.
Despite this though, once you have negotiated the peculiarly hinged doors and are seated, the spacious interior more than compensates for the difficulty of actually getting into the car, but this only goes for the front seat occupants.
The rear seat occupants will find themselves unable to move, or even find a comfortable seating position, but then again, this is an executive car, and passengers are likely to be the exception, rather than the rule.
To compensate for the practicality issues (or lack of practicality), BMW will lend you a more traditional model for long trips or family outings.
The system is based on the number of points an i8 driver or owner receives annually to redeem against other models in the BMW line-up.
However, this very welcome offer does not solve the day-to-day practicality issues, but the difficulty of getting in and out of the car seems a small price to pay for the prestige, image, and savings in running costs that can be had from a BMW i8.
Reliability and Safety.
Although the BMW i8 has not been officially tested by Euro NCAP, much of the technology in the i8 is in use in other platforms, such as the three-cylinder engine that is fitted to the Mini model range, as well as BMW's 2 Series Active Tourer MPV.
Moreover, current BMW drivers are familiar with the switchgear and other interior features, which means that in practice, i8 drivers are assured of the 5-star quality and reliability that has rightly made BMW famous.
In addition, electric motors are for the most part extremely reliable due to their small number of moving parts. The brake system also benefits due to the regenerative functions of the hybrid system, which can extend brake pad life by 30% r more, depending on driving style.
In terms of crash protection, the BMW i8 offers superior body strength due to the nature of the CFRP body shell that is regarded as the safest in its class.
Occupants are further protected with side, front, and curtain airbags, while the standard LED headlights reduce eye strain during night time driving.
Driver assist systems include automatic braking at low road speeds, as well as blind spot detection, although the latter two options are only available at additional cost.
Insurance.
It is perhaps not surprising that the i8 is one of the most expensive cars to insure, and although BMW offers bespoke insurance for the i8, it is very likely that more favorable insurance rates could be had from specialist insurers.
Nonetheless, fuel and running costs that fall into the hatch-back league will go some way toward offsetting the high insurance costs that bear directly on the highly complex CFRP chassis, and carbon-fibre that are vastly more expensive to repair than conventional steel body panels.
 Depreciation.
The consensus among high-end car dealers appears to be that the BMW i8 will retain about 55% of its value after three years.
This estimate is based on the experience with the i8's main rivals, the Audi R8, and high-end iterations of the Porsche 911.
However, to compensate, the i8 is likely to remain a highly desirable car for much longer than its rivals, which is expected to make a positive impact on resale values.
Enjoy This Article?
If so, please feel free to share this on social media.
Thank you for reading!
Leave any questions/comments you have down below!