Who would have thought that one day the humble cycle will reach haute couture levels with the rich and famous owning really expensive and snazzy versions?
This largely human-powered, single track and pedal-driven two-wheeler was born in the 19th century in Europe and today its profile and function have undergone tremendous changes/evolution.
While it is still a simple method of transport in many countries, its functionalities have expanded to include luxury fitness equipment and as children's toys. Probably the enhanced functionality of the humble bicycle has today made it prone to thefts.
Statistics on Bike Thefts:
The cities infamous in the US for bike theft include:
Philadelphia
Chicago
New York City
San Francisco
Tucson
Portland
The ten cities notorious for bike thefts in the UK include:
Central London
Kingston-upon-Thames
Cambridge
Bristol
York
Oxford
It is quite clear why these cities are known for cycle thefts; because cycling is the most popular in these places.
As per a report in Cyclist, a staggering 376,000 bicycles are stolen each year in the UK. Another report in NBR claims that in the US around 1.5 million bicycles are stolen every year.
If you are an ardent cyclist and love your bicycle, then these figures should wake you from slumber. Therefore, it is important that you get yourself a good, reliable and failsafe cycle lock that will keep your favorite two-wheeler secure and protect it from lurking thieves.
Types of bike locks
There are many varieties of bike locks including:
Cable locks – these employ a locking mechanism wherein one end of the cable is fixed permanently while the other end is fitted into a lock through an automatic mechanism or by turning a key. Cables used include basic steel, coiled and armored in the order of increased strength.
Chain with Padlock – varying largely in size, shape, and length, padlocked chains offer great security options to your bikes. Chains are usually covered with a plastic sleeve or protective covering to avoid damage to your bike and/or to prevent corrosion.
D and U-locks – are oversized padlocks comprising of hardened steel shackles. Coming in different thicknesses, widths and lengths, the D and U-locks fit into an oblong lock body.
Cuff shackles – or handcuff locks work such that one end is fitted to the wheel or frame of the bike, and the other end is secured to an immovable object such as parking furniture.
Secure skewers – are component locks that replace standard bolts in seats and wheels. These inconspicuous locks are very difficult to break open with conventional tools. Each set of locks has its own set of tools for a locking and unlocking mechanism.
Having given you a brief on the importance and types of bike locks, allow me to list you my best picks.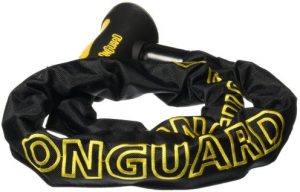 OnGuard 8020 Mastiff Integrated Key Chain Lock:
The dimensions of the OnGuard 8020 is 10mm × 3.5 ft. With two double bolt locking mechanisms and square, titanium-enriched steel chain links, this bike lock delivers optimum cut resistance.
Maximum resistance from picking and physical attack is ensured by the integrated unique OnGuard cylinder. The chains are both heat- and water-resistant prevent scratching and allowing for compact coiling. A rotating dust cover keeps the cylinder protected.

SIGTUNA Bike Lock & Cable Combo:
The SIGTUNA combo integrates a 1200mm braided steel flex cable and a 16 mm heavy-duty U-lock shackle with a key hole and mounting bracket.
The fairly long steel cable allows you to chain your wheels, helmet, and several other bikes when not in use. The product is lab-tested and certified for extended holding power against leverage attacks and bolt cutters.
The two stainless steel keys and one-button release for the mounting bracket holder enhance convenience and ease of use.
This Swedish designed super lock delivers the ultimate security and protection against theft for your beloved bike.

Kryptonite Kryptolok Series 2 Standard Bicycle U-Lock with Transit FlexFrame Bracket:
The 13 mm high-grade stainless steel shackle is highly resistant to leverage and cutting attacks. The Bent Foot design delivers great value and high-security protection.
The Kryptonite Kryptolok Series 2 Bike Lock also includes:
Transit FlexFrame Bracket with easy mounting mechanism and 360-degree rotation capability to better-fit the bike's specific shape and alignment
A disc-style cylinder which is highly resistant to picking and drilling
Two I-style keys for ease of use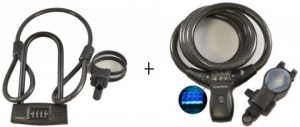 Lumintrail Cable Lock and U-Lock Combo:
The Lumintrail product includes steel U-lock and cable lock for enhanced security. It comes with a 4-number resettable combination e-lock so that you do not need to carry or worry about remembering to carry keys.
An LED light illumines the cable lock combination allowing your ample visibility even in low-light situations.
This product includes two bike frame mount brackets – one for the U-lock and one for the cable lock. The components are made with military-grade steel delivering maximum protection against picking and drilling.

Kryptonite Kryptolok Series 2 Mini Bicycle U-Lock with Transit FlexFrame Bracket:
The 13 mm highly robust high-performance steel shackle is resistant to cutting and leveraging. The signature Bent Foot design offers superb protection and security for your bike.
The disc-style cylinder is pick- and drill-resistant enhancing the lock's security features. The product comes with 2 I-styled easy-to-use keys and easily mountable Transit FlexFrame Bracket.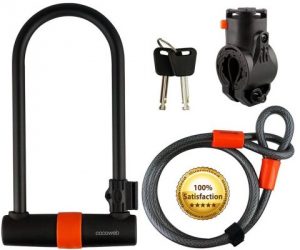 Cocoweb Heavy Duty Bike Locks:
Using high-grade and durable 14 mm stainless steel chain wrapped in a 2mm PVC coating, Cocoweb products protect your bicycle from damage and scratching.
The products have a Weather Guard feature to prevent weather-backed rusting and corrosion. An additional security cable enhances protection. Easy-to-install and conveniently portable clip mount is included.
Final Notes
No matter which city you are in, safeguarding your bike from theft has become very important owing to rising theft rates.
Investing on a good bike lock is a more prudent option as compared to leaving things to chance or buying a seemingly cheap yet easily-pickable/drillable lock.
Do browse through my suggestions and let me know if you found my article useful and helpful.