Product Name: Learn Auto Body and Paint: Video Training Course
Course Creator: Tony Bandalos
Price: $97.00
Rating: 9.5/10
Short Review: The creator of this product is a true expert that will walk you through every step of painting your car and performing bodywork with great detail. The information is constantly updated and Tony, the creator, is very reachable if you have a question.
Where to Buy: You can buy this product HERE.
Background: The Problem at Hand
Painting a car is something many people dream of doing but few actually do.
If you're not a mechanic, or simply don't have much experience painting cars, the task can seem overwhelming. There are many different types of paint, each car requires different amounts of care, and you can easily become nervous about messing things up and ruining the aesthetics of your car.
Tony, the person behind the product Learn Auto Body And Paint, gained years upon years of experience painting cars since he was only 12 years old. He realizes that not everyone was brought up learning the same skills that he learned and set out to break down his painting process so that the average driver will be able to customize their ride at an affordable price without any prior experience.
Why most people never go through with painting their cars:
The internet is the fastest way to learn any skill today. The only problem with learning more complex, mechanical things online is that the information is scattered. This leaves all the non-mechanics out there unconfident in painting their own cars.
Will It Be Easy?
Before we really get into this review, I just want to touch on one subject. Painting a car will require time and patience.
While painting a car isn't as delicate as something like brain surgery, it is still not something to rush through. If you want your car to look amazing after painting it yourself, following directions and having patience is your key to success.
"Don't however, be misled that it is a very simple and straightforward task to accomplish, as many may claim it to be so. It is something very different from just picking up a spray gun and starting the job, it requires a lot of patience, trial and error and most importantly to undergo the right intuition before engaging in the project. The need to keep yourself updated with the latest paint industry information is advised due to changes occurring very frequently" – Tony Bandalos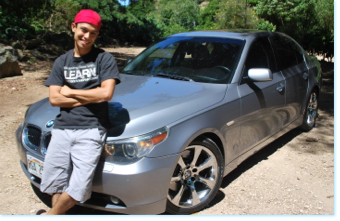 How Credible is the Creator?
A very important thing for us to talk about is who will instruct you through painting a car.
Like I mentioned earlier, the creator, Tony Bandalos, has over 20 years of experience in the auto industry and has been painting since he was 12 years old.
If that's not enough for you, he also has a popular Youtube channel with over 30,000 subscribers from all over the world. You can check out his Youtube channel here.
An interesting fact I recently found out about Tony's painting course is that it is used as part of the curriculum in the entire Austin Texas School District. Why you may ask? Because Tony is always updating the information to stay relevant with today's paint industry. This is what separates Tony's high quality product from all of the scattered free information you'd find around the web.
What's Included:
Inside, you get 70 hours of video content as well as some textual information and bonuses. For what you pay, it's a great value! You're going to be spending more on paint than you will on this product!
And just think about it; This product is an investment that will save you years of looking at a half-ass paint job you would've done without Tony's course. Why not make a tiny investment now if it will save you time, money, and a lot of frustration in the future?
Here's some of the valuable skills you'll learn:
How to do bodywork that will stand out on the road
How to professionally paint your car on your own
How to properly mask your car before the paint job
How to fix dented or busted body panels
Prepping your body work
Updated information on paint
Tons of priceless tips on assuring a clean, professional look
The right way to profit off your newly acquired skills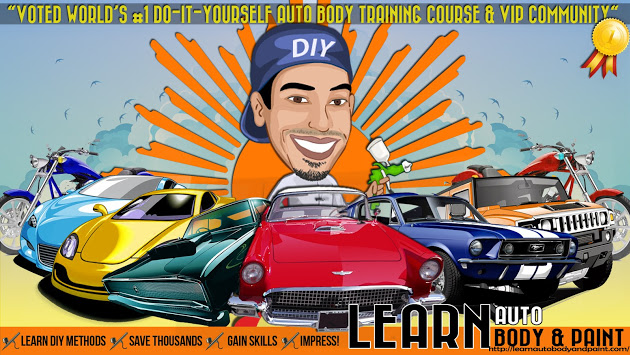 Why I would much rather prefer following Tony's guidance
It's very obvious that Tony, the creator of this product, knows the ins-and-outs of painting cars. Not only that, he is very, very passionate about it as well.
If you make the mistake of not following Tony's guidance, or not seeking any professional guidance in general, your car can end up a disaster. Have you ever been driving on the highway and have glanced over only to see a car with a horrible-looking paint job. That's what happens when you don't know what you're doing.
Tony doesn't expect you to just simply absorb information. He gives you actionable advice for you to follow. Even on the product's sales page, he makes it clear that you should get your hands dirty and start getting some experience with a spray gun as you go along the course.
In essence, there are 2 ways to learn something. The first way is trial and error. This assumes that you just dive into something, make errors, and eventually improve. This will take you many years to get good. The next way is to find someone that will teach you. This will allow you to avoid their mistakes and master the skill in a much shorter time period. In no way will this product turn you into a master overnight(the videos in total add up to 70 hours of content so that would be literally impossible), but you can expect to become good in months instead of years.
Access to a
community

? What?

Here's an awesome surprise that you probably weren't expecting: After you purchase the course you get access to the Learn Auto Body and Paint community where you can chat with Tony and all of the members that have also taken action and bought the product.

This is another way for you to avoid fatal auto-body mistakes. I was sold on the product before I even discovered this feature. You'll find it very useful!
How to follow the course after you purchase:
I thought I'd also mention how this course works after you purchase it incase you were wondering:
Step 1: Upon payment, you will be brought to the VIP area. Consider this your dashboard for all of the videos and features offered.
Step 2: Once you are in the VIP area you can choose to access the community and chat with members, watch the 70 hours of video tutorials, or read the informative guides. It is also a cool feature that you can download the tutorials straight to your computer for watching offline. This will make it easy if you want to transfer them to your phone/tablet so you can view them in the garage.
>> Click here to find out more about Learn Auto Body and Paint <<
Summary
Overall, I have to conclude that this product is well worth buying.
It will save you time, money, and frustration.
Feel free to comment down below if you have any questions. Also, let me know if you have had experience with this product.
Thanks for reading!
Learn Auto Body and Paint Breakdown:
Overall Quality -

9.5/10

Video Effectiveness -

9.8/10

Value for Your Money -

9.5/10

Credibility of Instructor -

10/10
Short Review
If you are thinking about painting a car and are in need of an expert that will show you the ropes, you can't go wrong with Learn Auto Body and Paint.