Ever wonder how to fix a cigarette lighter in your car?
It's funny that we still call them cigarette lighters.
Nowadays the people who use cigarette lighters to power their GPSs, phone chargers, dash cams, and other crazy gadgets far outnumber the people who use the ports to light cigarettes.
Anyway, if your cigarette lighter port in your car has stopped functioning, I'm going to teach you how to fix it today!
This shouldn't be a hard project even if you aren't a car-savvy person.
The Easiest Method: Is your fuse blown?
The video above shows that your disfunctional cigarette lighter could be as easy to fix as simply replacng a fuse.
Reference in your car manual to find out where the fuse box is in your car that contains the cigarette lighter fuse.
Once you find it, look to see which fuse corresponds with the cigarette lighter. Take that fuse out and look at it in the light.
If  there looks like a broken wire between the two rods in the fuse, it is broken. All you have to do now is purchase a new fuse, replace the old one, and you're good to go!
You can find fuses and other parts online easily by adding your current vehicle into Amazon 'Your Garage'.
Fuse isn't bad? Continue reading to find out what you should do next.
How to Replace a Cigarette Lighter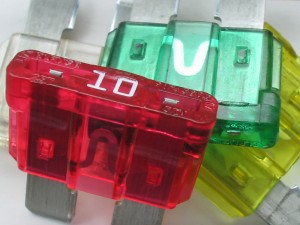 If your fuse is still intact, there's a good chance you'll have to replace the cigarette lighter.
Before jumping to this conclusion I recommend testing that voltage is indeed going to your cigarette lighter and the contacts inside are clean. You can test if voltage is flowing using a multimeter.
Step 1: Get access to the insides of your panel.
Each car is different, so this step will vary. Look at your car manual, use Google, and reference Youtube videos to find out how to get access to the back of your panels.
Step 2: Remove wires that hold the cigarette lighter port in position.
There should be two main connectors on your cigarette lighter. One is for the light that illuminates your cigarette lighter port(if there is one) and the other one is for the power.
Step 3: Remove the nut.
There's a nut that holds the cigarette lighter port in place. You can use a wrench or a socket to take it off. If you don't have either, pliers will work fine.
Step 4: Take out the housing parts and the cigarette lighter.
After the nut comes off, there should be a few parts to the cigarette lighter. Be careful not to lose any!
Step 5: Replace the old cigarette lighter for the new one.
Now just put it back together! If you are confused with anything, reference the video above. And that was the conclusion of 'How To Fix a Cigarette Lighter In Your Car'.
Did you enjoy learning how to fix a cigarette lighter in your car?
If so, please share this post on social media. It takes two minutes and helps us out tremendously. Thank you!
Also, if you have any questions, don't hesitate to leave a comment below. I'll be happy to help you out.
Thanks for reading!