Animal print is all the rage these days.
Leopard print car accessories have become increasingly popular among car enthusiasts who want to give their ride a distinct, unique look.
Go wild with the best leopard car accessories we have compiled in this article.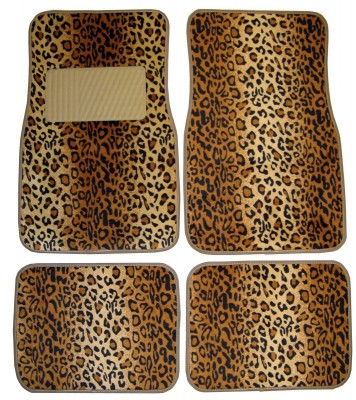 PlastiColor Universal Fit Leopard Wild Skinz Front & Rear Floor Mat Set ($17.69)
Jazz up your car's interior with this leopard print front and rear floor mat set of 4.
Made of heavy duty plastisol with recessed grid pattern, this 4-piece floor mat set is ideal for use in all cars regardless of their model or make.
Not only do these vibrant floor mats give your car's interior a new look but they also protect the original interior carpets of your car.
The reason why these floor mats are an absolute must-have is because they are easy to clean and long lasting. You can either wash them with soap and water or simply hose them down.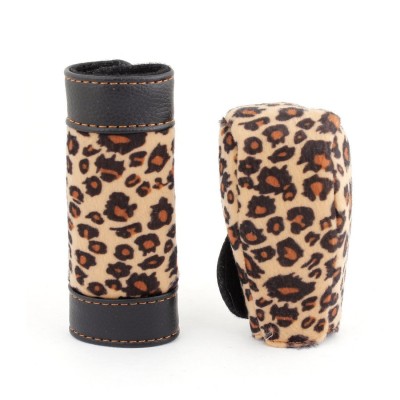 Brown Leopard Print Plush Cars Handbrake Shift Knob Covers Set ($6.52)
Breathe life into your older car's interiors with this leopard print plush cars handbrake shift knob covers set consisting of two pieces including one handbrake cover and one gear shift knob cover.
The handbrake cover can be easily installed using the hook and loop fastener attached to it while the gear knob cover comes with a drawstring.
These catchy leopard handbrake and shift knob covers protect the handbrake and gear shift knob from scratches, dust and sun damage.
If you're looking for inexpensive leopard print car accessories to match the theme of your car's interior, these stylish plush handbrake and car shift knob covers priced at just $6.52 are a steal.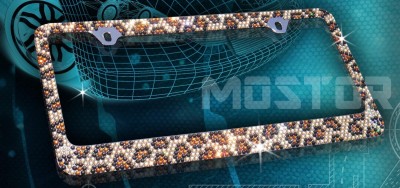 Premium Bling Rhinestone-Metal Chrome License Plate Frame ($10.99)
Make your car stand out from the rest with this premium quality leopard rhinestone-metal license plate frame.
Bedazzled with more than 1000 rhinestone crystals, this leopard print number plate frame is durable enough to withstand harsh weather conditions and car washes.
Installing the frame is fairly simple for it comes with rear secure tabs to keep the frame in place. If you're looking for a one-of-a-kind license plate frame to suite your style and taste, this leopard print rhinestone-metal frame will become the talk of the town wherever you go.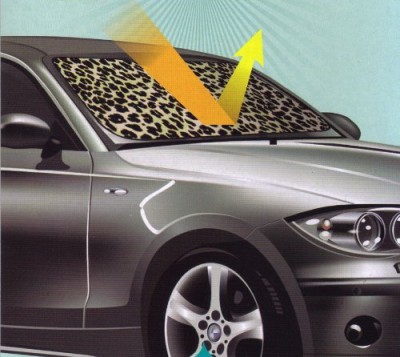 Leopard Car Front Windshield Sunshade ($12.40)
Protect your vehicle from harmful UV rays with this chic animal print jumbo size sunshade. It folds accordion style so you can store it doesn't take up any extra space.
This front windshield auto sunshade is designed to lower the temperature inside the car when it is parked outside under the scorching sun.
What gives this animal print car shade an edge over the others is that it comes with tapered edges for a more snug fit onto your windscreen with storage straps for securing it in place.
Reasonably priced at $ 12.40, this jumbo size sunshade is ideal for protecting the interior of your car on a hot sunny day.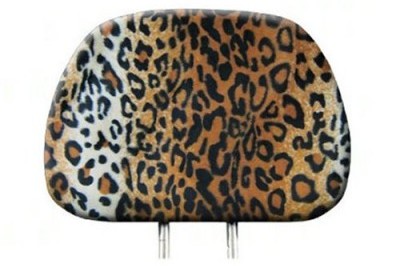 Leopard Print Car Truck Headrest Cover ($4.99)
Your car is your most prized possession. If you're thinking of sprucing up your older car's interiors with a touch of modernity, this leopard print car truck headrest cover is just what you need.
It can be installed on almost any vehicle in a matter of minutes; thanks to the poly-back elastic material.
The eye-catching leopard print on the headrest cover in brown and black color will compliment the neutral colored interior of your car for a crisp new look.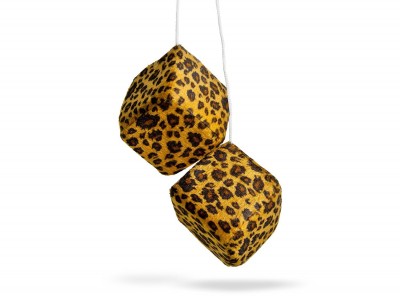 mAuto 0025 Fuzzy Car Dice – Brown Leopard ($4.43)
Get your hands on this leopard print hanging car dice to add some pizzazz to your car. Made from soft plush fabric, this leopard fuzzy car dice will give your car's interior that retro 60s look when you hang it on your rearview mirror.
The best part about this fuzzy car dice is that the print is subtle and the dices are just the right size so it doesn't look tacky at all or interrupt vision.
With a price tag of $4.43, this hanging dice ornament is a steal!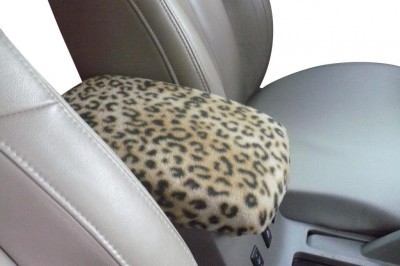 Auto Center Console Armrest Cover ($19.95)
Especially designed for Nissan Rouge SUV 2007-14 models, this grey leopard print armrest cover is ideal for protecting, decorating and adding comfort to the center console of your SUV.
Made from superior quality fleece fabric, the Auto Center console armrest cover will looks and fits like original; adding a modern touch to the car's interior.
The fleece fabric used in making the armrest cover is machine washable so it won't shrink or lose color over time. The material is also stain proof so you don't have to worry about ketchup, suntan oil and coffee stains anymore.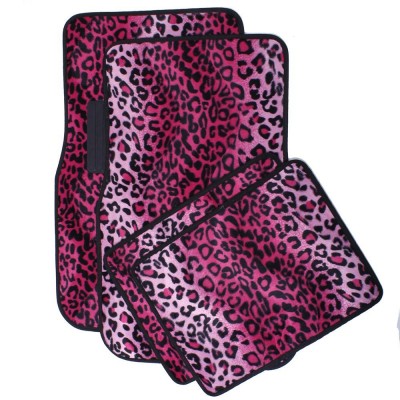 OxGord Front & Back Seat Leopard Carpet Mats ($9.95)
Perfect for use in cars, trucks and SUVs, these front and back seat leopard carpet mats by OxGord are a must-have for all leopard loving motorheads out there.
Fitted with rubber spikes at the bottom, these carpet mats will stay in place at all times.
The OxGord leopard carpet mats are durable and easy to clean.
You can hose it down or use a mild detergent solution to clean it.
The material used in making these high quality carpet mats is stain-proof so you can use it all year round – come rain come shine.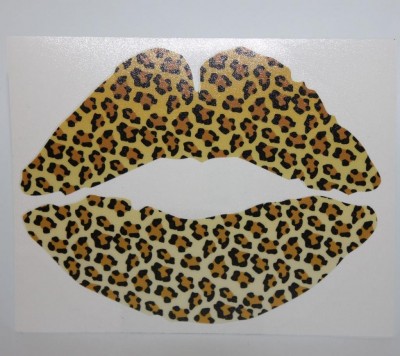 Leopard Print Kiss Lips Bumper Decal Sticker ($3.95)
This leopard print kiss lips decal sticker will turn heads wherever you go. This 6" decal sticker is just what you need to accessorize your car for less.
Made from outdoor vinyl, this leopard print sticker will last up to 7 years. Priced at only $ 3.95, this will make an ideal gift for your lady friend.
Final Notes
Get hold of these leopard themed car accessories to give your car a fresh new look without burning a hole in your pocket.
Did you enjoy this article?
Do us a big favor and share it on social media using the buttons down below.
Thanks for reading!