For car enthusiasts, one of the greatest pleasures of having your own car is the opportunity to personalize its appearance and driving experience according to your likes and preferences.
The market is flooding with innovative car accessories with amazing new features. If you're stuck in a dilemma on which car accessories to invest in this month, here is a list of the top 20 awesomely useful car accessories that are cool, functional and value for money.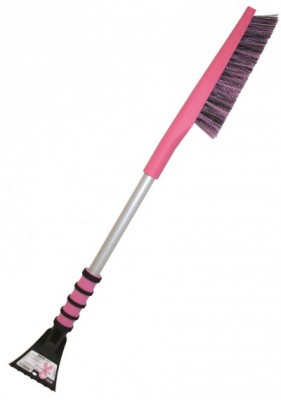 Hopkins Pink 31" Snow Brush
This 31-inch snow brush by Mallory USA is a superb multipurpose tool. It comes with a brush and scraper to clear away snow from all the hard-to-reach places efficiently. The best part about this snow brush is that it is lightweight, easy to use and requires zero maintenance.
If you're looking for a multipurpose snow tool that is affordable and convenient to use, this 31-inch pink snow brush by Mallory USA is definitely a winner.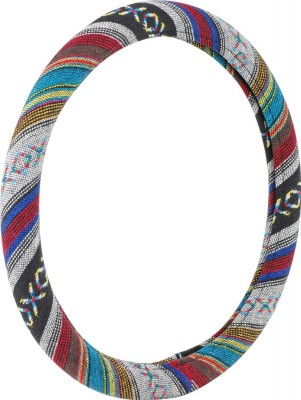 Steering Wheel Cover
This trendy steering wheel cover by Bell Automotive is ideal for protecting your car's original steering wheel as well as adding a bit of color to the interior. The colorful Baja blanket steering wheel cover is easy to install and designed for use on all standard car steering wheels.
The poncho weave design and bright peppy colors inspired by Southwestern traditions will give your car a hip new look. Plus, the material used in making this steering wheel cover is stain proof, machine washable so the color won't fade away after a couple of washes.
Priced at $11.14, this fashionable steering wheel cover is definitely worth trying.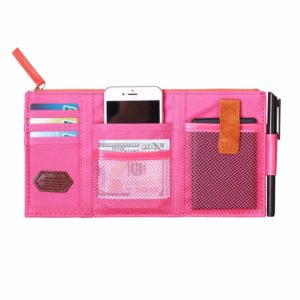 Auto Car Visor Storage/Tissue Bag Holder
Made of oxford cloth, this cool new car accessory is an absolute must-have for all those who like to keep their stuff neatly organized in their car.
This handy car visor organizer can be used to store CDs, magazines, stationery, cell phone and all other small items that usually get misplaced in the car.
This multifunction colorful car visor comes with an affordable price tag of $12.99. It's a great gift idea for all the car lovers out there.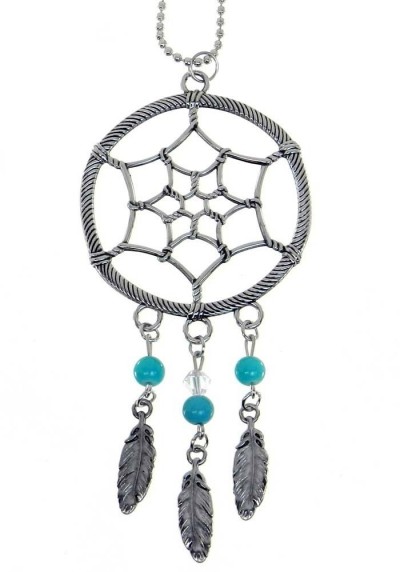 Ganz Dream Catcher Zinc Car Charm
This cute dream catcher car charm by Ganz will make a great little giveaway for you near and dear ones.
It is the perfect decorative accessory for your car's rearview mirror and just about the right size. The intricate and eye-catching design will get you a lot of compliments.
If you've ever believed in the history and tradition of dream catchers as a child, this little dream catcher charm will bring your childhood memories back to life.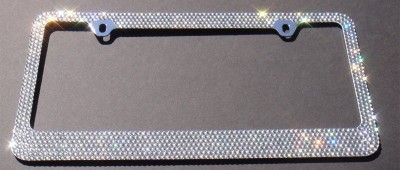 Chrome License Plate Frame
Personalize your car with this crystal metal chrome license plate frame designed especially for standard US and Canada size license plates.
Bedazzled with more than 1000 crystal stones, this bling 7 row crystal metal chrome license plate frame will turn heads wherever you go.
The best part about this license plate frame is that it can withstand harsh weather conditions and frequent car washes. Priced at just ($10.29), this license plate frame is a must-have for all those who love a little bit of bling in everything!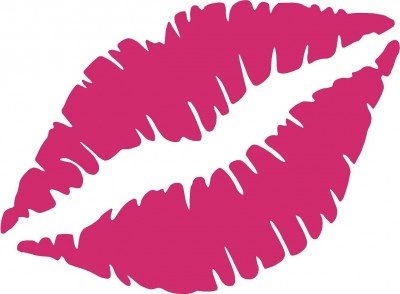 Kiss Mark Lips Car Decal Sticker
Here's a little something for all the ladies out there. This kiss mark car decal sticker will give your car a distinct look with a feminine touch. The best part yet – this cutesy sticker comes with a clear adhesive tape on its back for easy application.
With dimensions of 5.75 x 4.45 inches, this kiss mark lips car decal sticker is perfect for dressing your car's windows, rear windshield or bumper.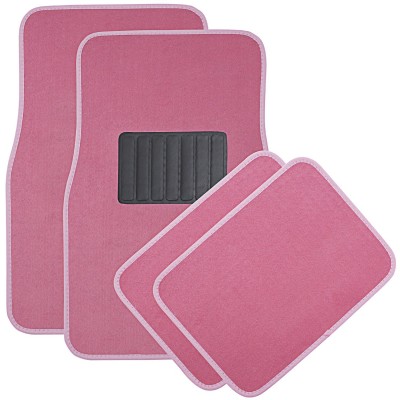 Heavy Duty Deluxe Carpet Floor Mats
Give your car's interior a feminine touch with this heavy duty carpet floor set by OxGord in baby pink color.
This 4-piece carpet floor set can be used in any car, SUV or truck. What makes this auto carpet set an absolute must-have for your vehicle is that it will protect your car's original carpets against harsh weather conditions like rain, snow, sleet and ice.
These heavy duty carpets are low maintenance as well. All you have to do is scrub them with soap and water or simply hose them down and they'll be as good as new.
Priced at just $12.95, this 4-piece deluxe carpet floor mats set is definitely worth a try.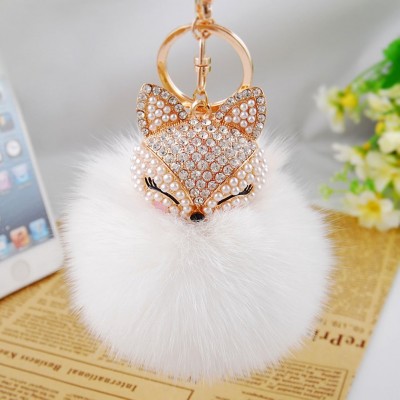 Leegoal Real Fox Fur Car Pendant
Surprise your lady friend with this cuddly fox head fur ball car pendant.
Made of natural fur and rhinestones, this cute charm can be used as a keychain, cell phone charm or car pendant.
Add a subtle touch of bling to your car's interior with this cute little fox fur ball car pendant for $4.65 only.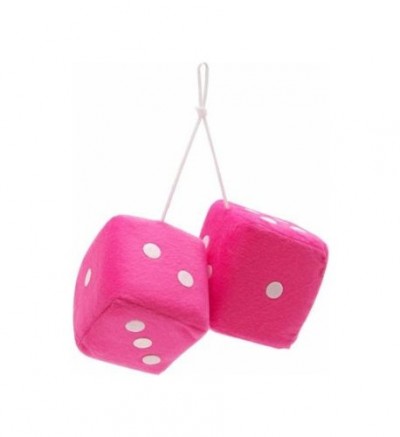 Pink Fuzzy Dice with White Dots
Here's another stylish car pendant to accessorize your car with. This soft 3 inch square dice in pink is ideal for hanging on the rearview mirror.
The size is just perfect – it's not too small or too big to hinder your vision.
Priced at $7.79, this pink fuzzy dice car charm makes a perfect gift for a girlie girl who loves to personalize the look of her car.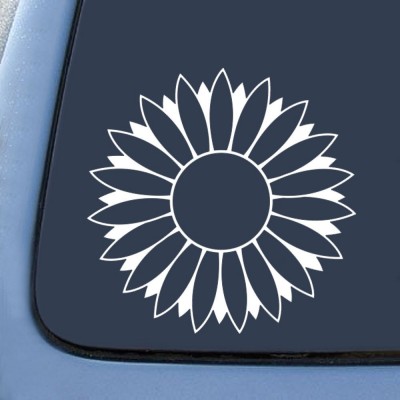 Max Flower White Car Decal Sticker
This multipurpose decal featuring a white sunflower by Bargain Max Car Decals is just what you need to customize the look of your car, laptop or notebook from time to time.
This cute decal sticker comes in a pack of two for $2.99 and can be used to dress your car's rear windshield or bumper.
Made of durable outdoor vinyl material, this decal sticker will stay put for up to 5 years even under harsh weather conditions.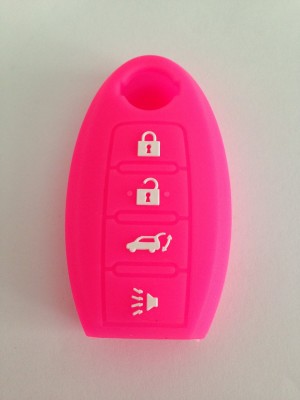 Silicone Fob Skin Key Cover in Rose Red
Personalize the look of your car keys with this fabulous silicone replacement protective key cover in rose red color.
Designed especially for Nissan Maxima, Altima, GT-R, Sentra and Murano, this soft fob skin silicone car key cover will protect your car keys from scratches, moisture and damage.
Its soft rubbery surface is fade-proof and easy to clean. Priced at just $6.97, this fob skin key cover is a steal!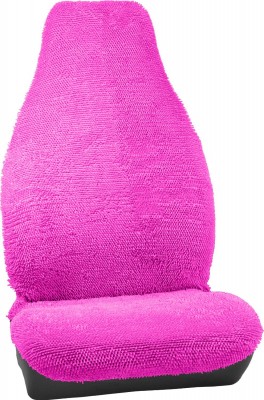 Bell Automotive Pink Universal Seat Cover
This trendy microfiber bucket seat cover in candy pink color will brighten up your car's interior with a more feminine feel to it.
Designed to fit most car seats with adjustable or built-in headrests, this bucket seat cover will protect your original car seat cover from stains, spills, dust and fading.
The microfiber shaggy material is machine washable and fade-proof so you can toss it in the washing machine every once in a while.
Add a pop of color to your older car's interior with this fun and fashionable universal car bucket seat cover for $20.01.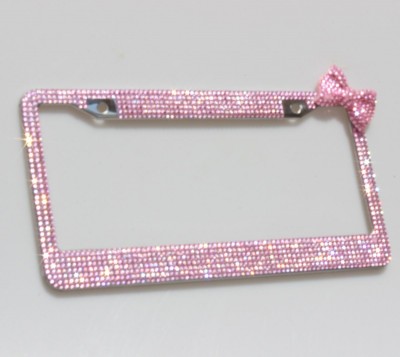 Carfond Stainless Steel License Plate Frame
This bowknot style stainless steel license plate frame is put together using the finest rhinestones to give your ride a distinct bling-bling effect.
This license plate frame is made from heavy duty stainless steel that will stay in place after several car washes and harsh weather conditions.
Designed especially to fit all US standard license plates, this cute bowknot style license plate frame comes with matching screws for fuss-free installation.
Get hold of this cutesy license plate frame for yourself or your loved ones today!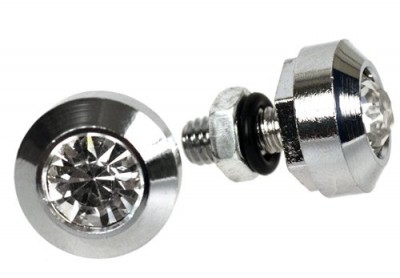 Diamond License Frame Fastener
Accessorize your license plate with these chrome metal finish diamond fasteners.
The chrome metal construction of these diamond style license frame fasteners fights rust and corrosion for a guaranteed long life.
The best part yet – you can use these license frame fasteners to secure all US standard license plates.
If you want to add a subtle touch of glamour to your car, try these diamond style license frame fasteners available with nuts and washers for easy installation at an affordable price of $3.98 only.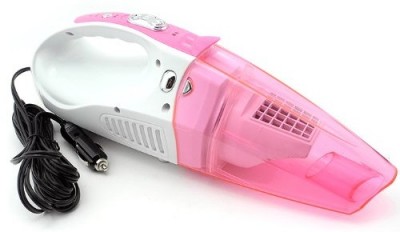 Portable Car Vacuum Cleaner
This 4-in-1 multi-function portable handheld vacuum cleaner is a must-have car accessory for everyone. Equipped with great functional features such as an LED light, tire inflator and a pressure gauge, this car vacuum cleaner is super light and convenient for use.
This little vacuum cleaner may be small but it is definitely a great performer. You can use this wet/dry vacuum cleaner to keep your car's interior neat and tidy at all times. Plus, the tire inflator and pressure gauge will come in handy too, in case you ever get a flat tire on the road.
If you're thinking of buying a new vacuum cleaner for your car, the iSaddle 4-in-1 portable handheld car vacuum cleaner is great value for money.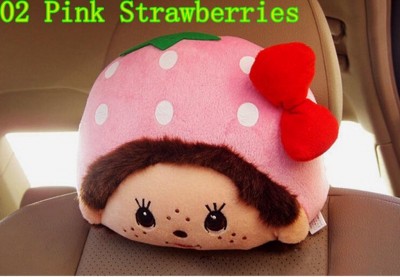 Soft Cartoon Cushion Headrest
Made from super soft plush material, this soft cartoon cushion headrest by EFORCAR is a must-have for all Strawberry Shortcake fans out there. This cute headrest comes with a string so you can fasten it onto your car seat in a matter of minutes.
The material is machine washable so you can clean it with mild detergent on a regular basis. Reasonably priced at $11.89, this soft cartoon cushion headrest is just what you need for a comfortable drive.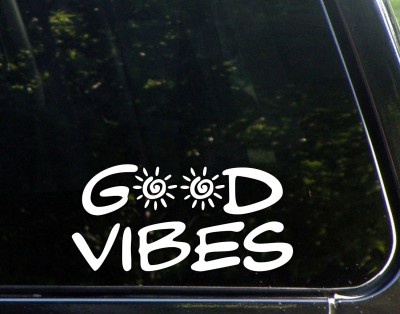 Good Vibes Vinyl Die Cut Decal Sticker
Dress your car's windows, bumpers or rear windshield with this long lasting 'Good Vibes' die cut decal sticker. Personalize your car, laptop, notebooks or bags according to your taste with this die cut decal sticker in white.
The easy-on decal sticker comes with a clear transfer tape for easy application similar to that of a temporary tattoo. The outdoor vinyl material is long lasting and durable with an average life of 6 years so the decal won't peel away under scorching heat and moisture.
With an affordable price tag of $4.98, this trendy decal sticker by Sign Depot is definitely worth a try.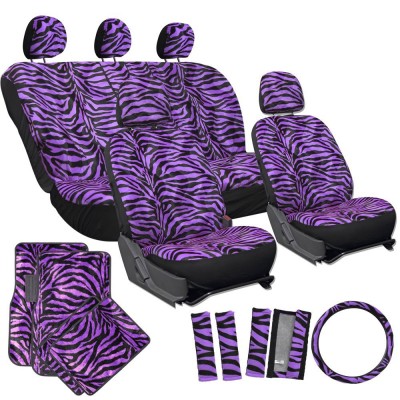 Matching Car Seat Covers Gift Set
Bring your car's dull interior back to life with this 21-piece animal print complete matching car seat covers gift set.
Made of easy to clean, breathable mesh fabric, this car seat cover set features trendy black and purple zebra print that will revamp your car's interior effortlessly.
The 21-piece gift set consists of auto carpets, steering wheel cover, head rests, car seat covers and shoulder pads to protect your car's original seats or disguise the old ones.
Equipped with S-hooks for easy installation, this animal print car seat covers set by OxGord is a great gift choice for your loved ones as well.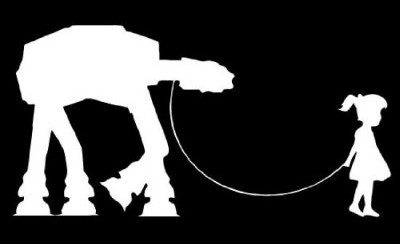 Girl Walking Robot Car Vinyl Decal Sticker
This vinyl car decal sticker featuring a little girl walking a robot is just what you need to give your car a fresh new look. The high quality outdoor rated vinyl material will last for 6 years and won't peel away after a couple of car washes or extreme weather conditions.
Become a trendsetter with this cool new decal sticker available for just $2.29.
If you enjoyed this article, please do us a big favor by sharing this on social media!
We hope you found this comprehensive list of 20 best car accessories useful for finding all the right accessories to give your car a fresh new look.