Hello Kitty is perhaps one of the most famous fictional characters Sanrio has ever created. Teens, youngsters, and even a collection of adults who grew up around the show alike love the adorable feline character and go crazy over Hello Kitty merchandise.
Here we have come up with a list of the 10 best Hello Kitty car accessories for all the hardcore Hello Kitty fans out there.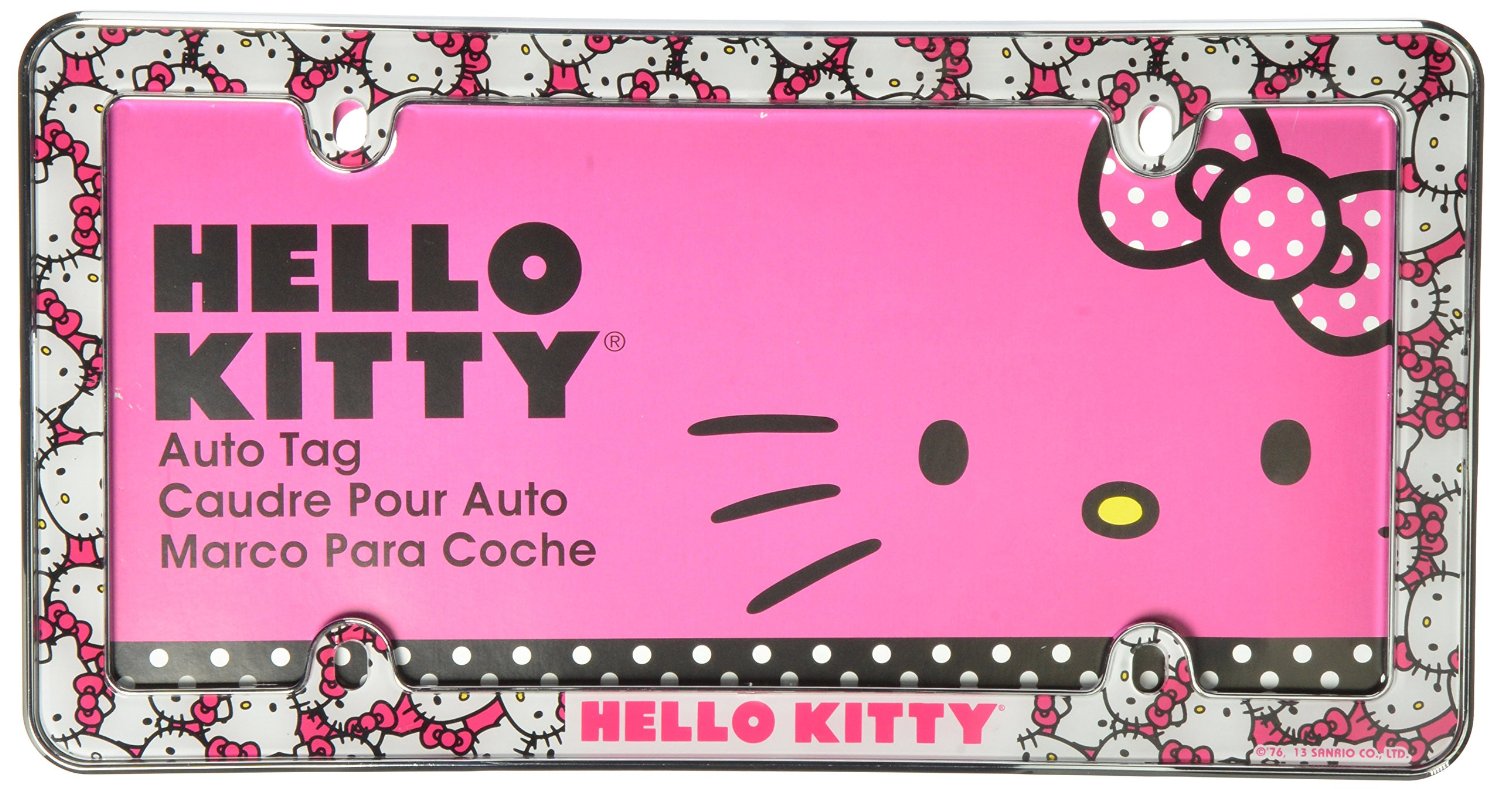 Chroma Hello Kitty Head Frame ($6)
This cute head frame by Chroma Graphics in pink will make heads turn wherever you go.
Made for standard license plates, this head frame sports Hello Kitty on the borders and makes an ideal gift for anyone who adores this cuddly fictional character.
Whether it's a sedan, SUV or a hatchback, you can easily fit this vehicle plate cover for it comes with pre-drilled bolt slots.
Priced at just $ 5.78, this Hello Kitty head frame is just what you need to spruce up your car's interior with a more feminine touch.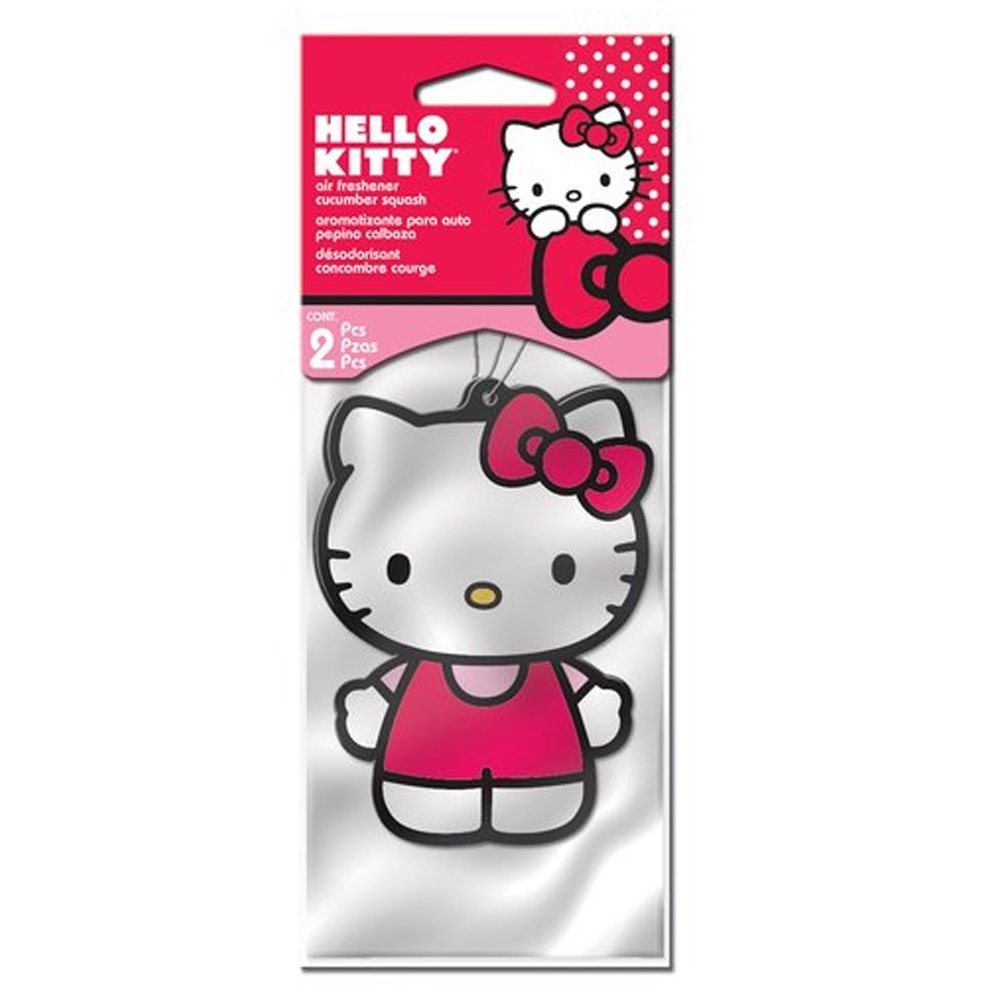 Hello Kitty Air Freshener – Strawberry Scent 2 Pack ($7.95)
The Hello Kitty air freshener comes in a pack of 2- bursting with the freshness of strawberries.
This two-pack air freshener with the Hello Kitty graphic will not only match the theme inside your car but it will also keep the interior of your car odor free for about a month and a half per air freshener.
The smell of strawberries is subtle; not overwhelming at all. If you're looking for a long lasting air freshener to match other Hello Kitty merchandise in your car, this is a great pick reasonably priced at $7.95.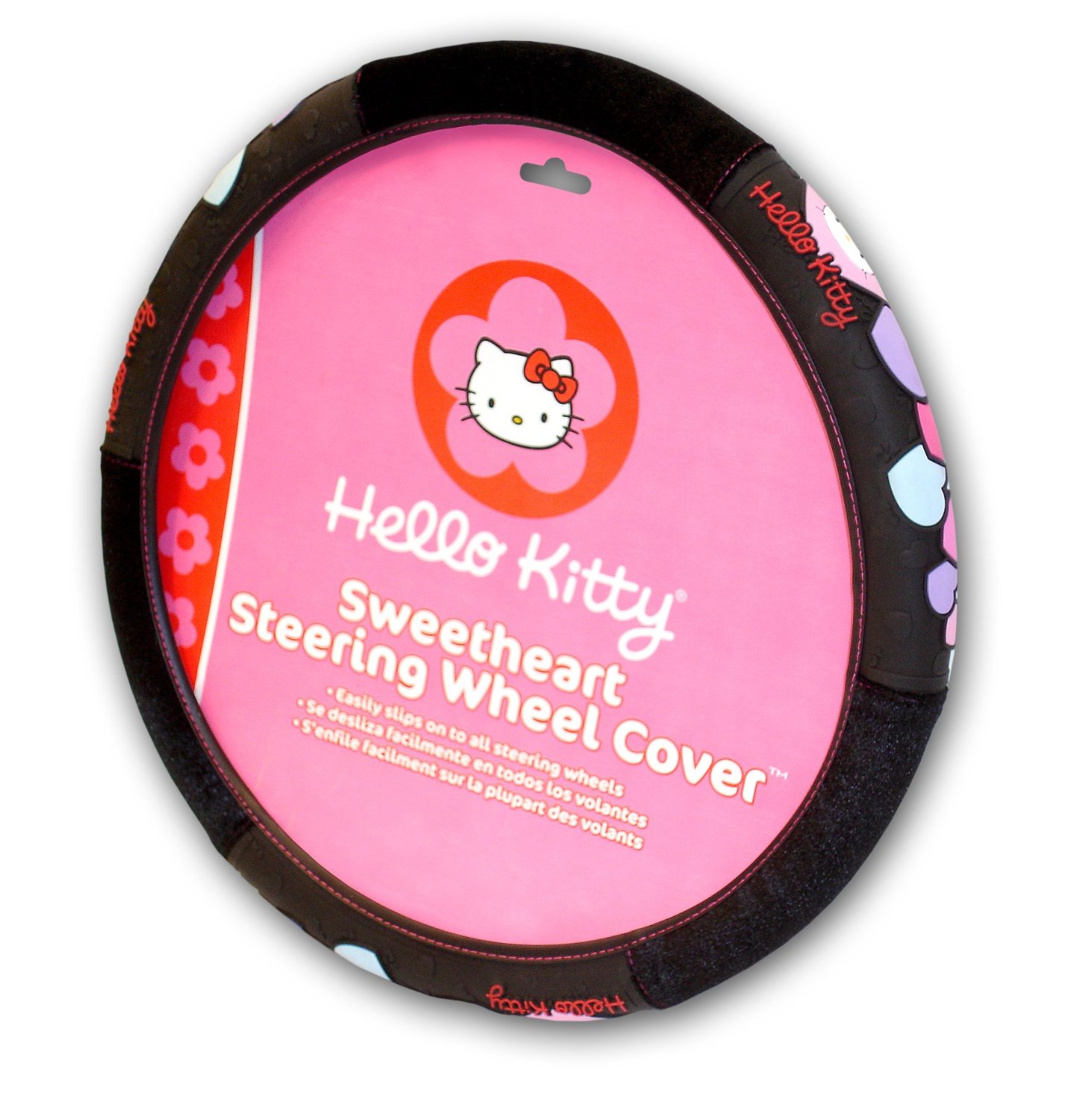 Officially Licensed Hello Kitty Steering Wheel Cover ($7.95)
Are you looking for a steering wheel cover that won't fade or discolor?
The all-new officially licensed Hello Kitty steering wheel cover by PlastiColor is perfect for covering your car's steering wheel with a high quality molded plastic cover that provides a snug fit minus any strong rubber odor.
The cover won't slip or sag over time because it is made from superior quality molded plastic in pink color.
This steering wheel cover featuring Hello Kitty heads will definitely give your car a truly one-of-kind look that will make your car stand out from everyone else's on the road.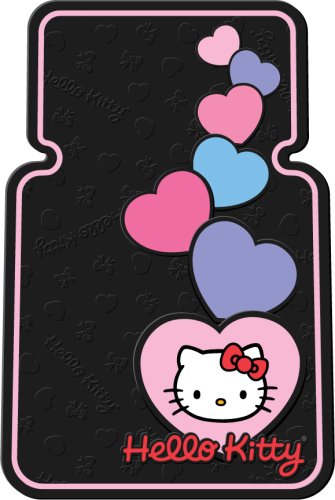 Officially Licensed Hello Kitty Floor Mats ($22.96)
These all-weather mats come in a set of 2 Hello Kitty heads.
Not only do these floor mats provide protection from active lifestyles, they are also easy to clean. All you have to do is scrub them gently with soapy water and they'll be good as new.
Revamp your car's interior with these vibrant floor mats featuring a Hello Kitty head with the official 'Hello Kitty' logo and raised hearts. If your lady friend is a Hello Kitty fan, surprise her with these cute floor mats priced at $22.95!
Hello Kitty Dashboard Decoration Ornament ($9.00)
The Hello Kitty dashboard decoration ornament is a great gift idea for all the Hello Kitty fans out there. This cute Hawaiian Hello Kitty bobble head will sway and shake to the motion of your moving SUV.
The bobble head comes with a double sided sticky tape so you can fix it onto your dashboard easily without any tools.
This cute little Hello Kitty bobble head comes with an affordable price tag of $9.00. It is just what you need to decorate your car's dashboard with a one-of-kind ornament.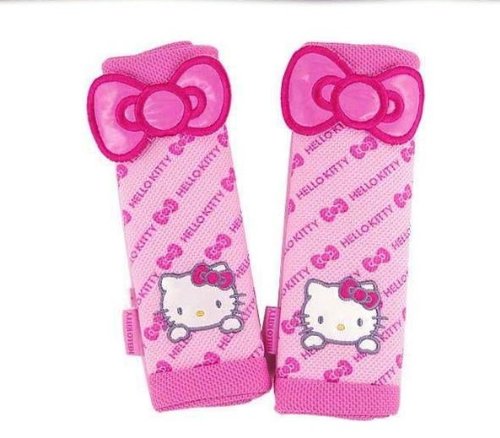 Hello Kitty 2-Piece Car Seat Belt Sets Cover ($9.99)
Protect your original car seat covers from getting dirty with the Hello Kitty 2-piece car seat belt cover. These seat belt covers come in different colors and designs featuring Hello Kitty heads and logos to match your unique style and taste.
The best part about these seat belt covers is that they are easy to wash and attach, plus they're shrink-proof. Give your car's interior a cool new look with this highly affordable, fun and practical car seat belt cover set of 2.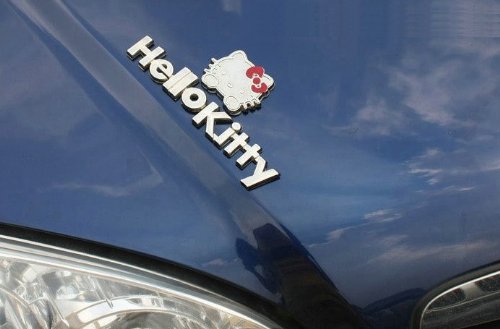 SuPoo Hello Kitty Metal 3D Decal Sticker ($8)
Decal stickers are ideal if you want to make your car stand out from the rest for less.
Priced at just $ 7.99, this metal 3D decal sticker sporting a Hello Kitty head and logo is perfect for use on cars of any make and model.
This Hello Kitty decal sticker comes with a 3M double-sided sticky tape on the back that won't mess with the paint job or leave ugly marks on the windows of the car.
The sticker is durable and won't come off easily due to heavy rains or harsh weather conditions. It will last you a long time!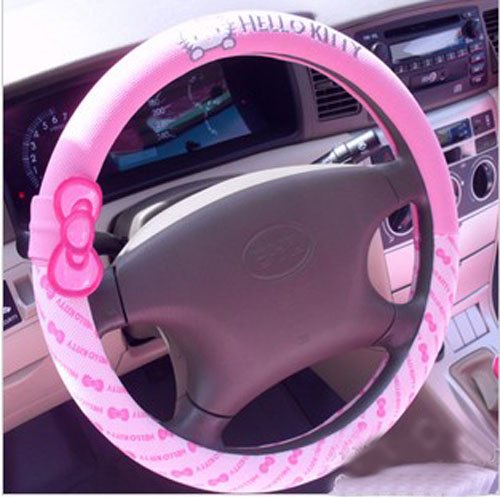 Hello Kitty Car Wheel Cover with Butterfly Pattern ($17-$20)
This cute car wheel cover featuring Hello Kitty head and bow is made of high quality cloth that will remain durable and last you a long time. The wheel cover can fit any standard steering wheel and looks super cute.
Since the wheel cover is light pink in color, it is susceptible to dirt but you can easily wash it with soap.
The bow is removable and can be placed anywhere you like. With a price tag of $17.00, this Hello Kitty wheel cover is the best alternative to molded plastic car wheel covers.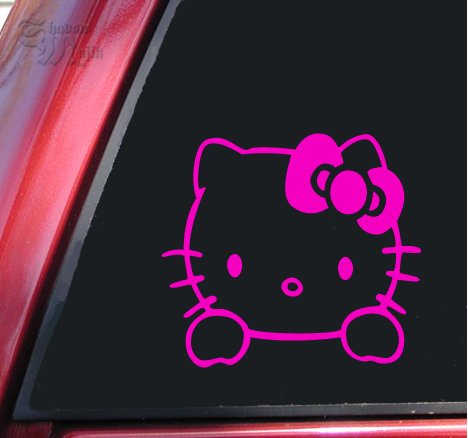 Hello Kitty Vinyl Decal Stick in Hot Pink ($3.65)
This decal sticker is precision die-cut with no background made from superior quality outdoor vinyl that can last up to 5-7 years.
Sporting a Hello Kitty head in hot pink color, this cutesy decal sticker comes with a self adhesive tape at the back.
You can stick it anywhere on your car or truck to match your personal style and taste. Priced at just $ 3.65, this modern decal sticker is definitely a steal.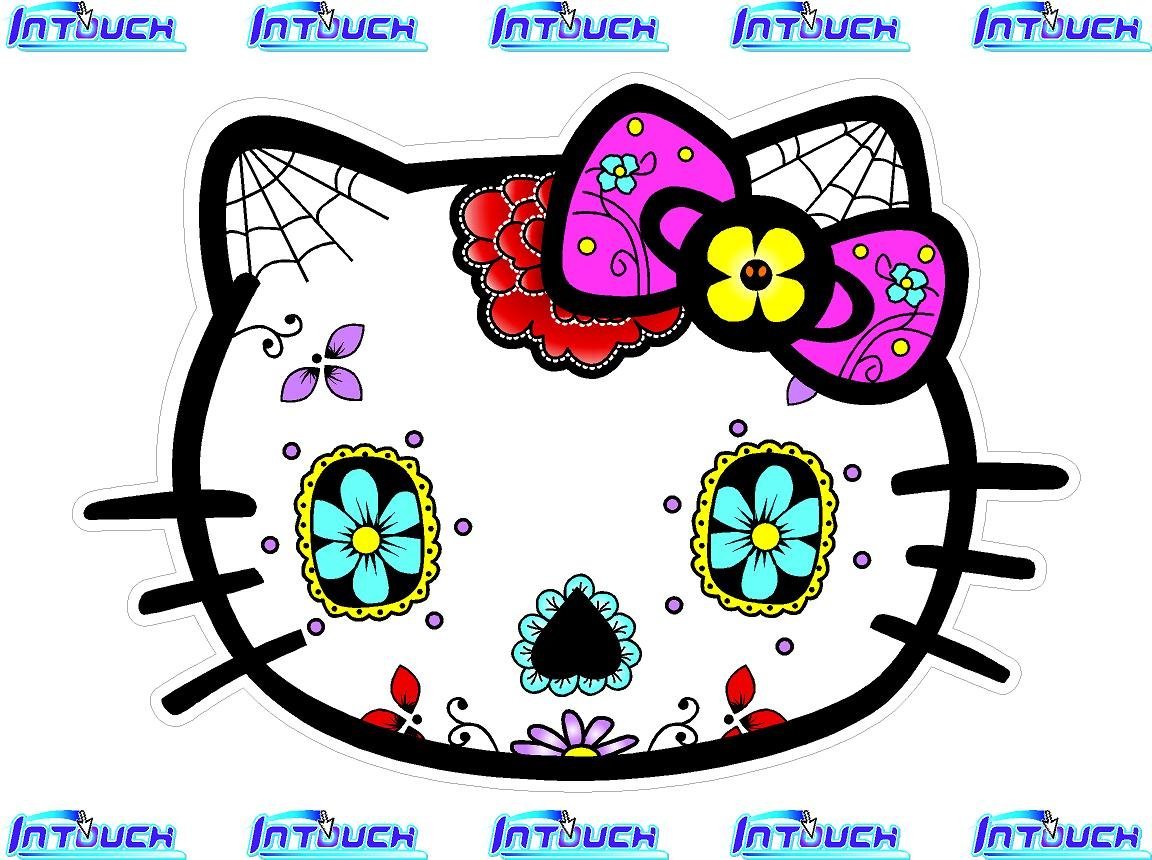 Hello Kitty Sugar Skull Sticker Decal ($2.99)
Here's another 3"x4" Hello Kitty sugar skull decal sticker that can be used for decorating your car's windows, body or rear windshield. Made from high quality outdoor vinyl, this decal sticker can easily withstand the harshest weather conditions for as long as 5-7 years.
The Hello Kitty sugar skull decal sticker can be yours for just $ 2.99 and looks perfect on dark and light colored vehicles alike.
Final Notes
Whether you are a Hello Kitty fan or not, these adorable car accessories under $25 are perfect for decorating or revamping your car's interior for less.
Let me know which Hello Kitty car accessory was your favorite in the comment section below!