If you're looking for some sweet Batman auto accessories, I can help you out!
There are many different ways to show your fandom with car accessories. Luckily for all of us, it is very affordable to do and can make a big difference to your car.
I have searched the web for the best batman car accessories and I've come up with 7 of the top choices you can find.
I'm interested! Let me know what accesories you can't wait to add to your car in the comment section below.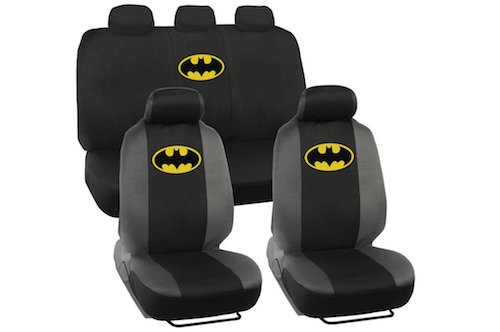 Batman Car Seat Cover Set
The first item we'll be talking about is batman seat covers.
Seat covers are easy to install and become a fast way to personalize your ride. There are a lot of different Batman seat covers out there, but the best ones I found are from a company called BDK.
BDK's Batman seat covers come with the covers themselves AND floor mats. This is a perfect combo that will transform even the most plain vehicles into a certified Bat Mobile.
What is included:
2 front top seat covers
2 front bottom seat covers
5 headrest covers
1 top bench cover
1 bottom bench cover
4 carpet mats (2 front and 2 rear)
The quality of these covers is very high. It's worth mentioning that in fact, BDK is officially licensed to use Batman logos on their products.
The covers are made out of a smooth, comfortable polyester material.
Overall, if you're a Batman fan and are looking for a complete set of seat covers and floor mats, make sure to check out this awesome car accessory!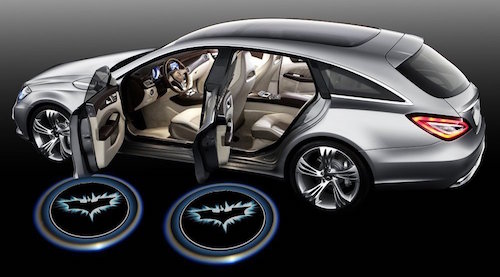 Wireless Bat Signal Car Door Projector
The next item we'll be talking about is something I'm really excited for.
The Wireless Bat Signal Car Door Projector will immediate your way every time you exit your automobile in such an awesome way!
Just imagine it. You open your car door in the middle of the night and are greeted by a big Bat symbol lit up on the ground.
I'm just going to tell you now; this is going to be the best $7 you ever spend. For such a low price, you get a gadget that will instantly improve your nights.
When you purchase this projector, you get 2 separate lights for two different doors.
To set the device up, you'll first need to insert 3 AAA batteries. Once that is done, you'll just have to switch it on and position it in your car.
There is a door sensor that will sense when you open the door. The light will automatically trigger when you open the door.
My favorite part about this light is the customization. They've made it easy for you to quickly swap out logo designs for your favorite one.
Overall, if you're looking for an extremely fun Batman car accesory, check out this Bat Signal door projector.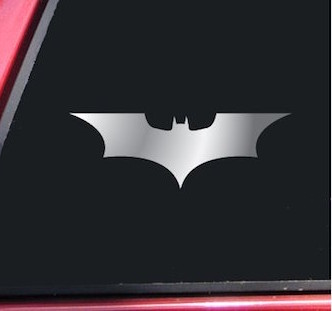 The Dark Knight Vinyl Decal
This simple $5 decal instantly tells passing cars that you are a dedicated Batman fan.
It is a beautiful, shiny chrome color that small, but noticeable, especially in sunlight.
The most assuring part about buying this decal is how long it lasts. No matter what weather you go through, this sticker is designed to last you a minimum of 5 to 7 years. No climate is a bad climate for this decal!
All of the Amazon reviews I have seen talk about how these decals look great and stick-on strong to any surface.
Overall, I have to say that this decal is the sleekest and most durable one I have seen. Pick one up! They are only $5 and enhance anything you put them on!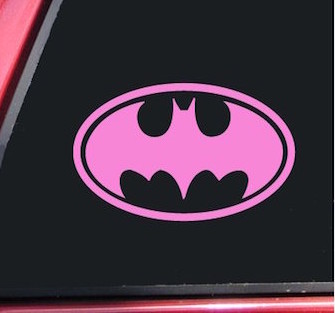 Pink Batman Car Decal
Don't feel left out if your favorite color is pink!
This decal is the classic Batman symbol with an oval around the bat.
There is no background on this sticker. Just follow the simple instructions and you'll be able to cut out the decal and stick it on your car, with zero bubbles, in no time!
Just like the previous sticker we talked about, this one will last you for 5 to 7 years. Even if it rains, snows, or sleets all time time where you live, this pink Batman sticker will remain in pristine condition on your car.
This sticker is slighter bigger than the last one we mentioned. It is 3.8 inches tall by 6 inches wide.
Overall, this decal is a must-have for the Batman fan with a favorite color of pink.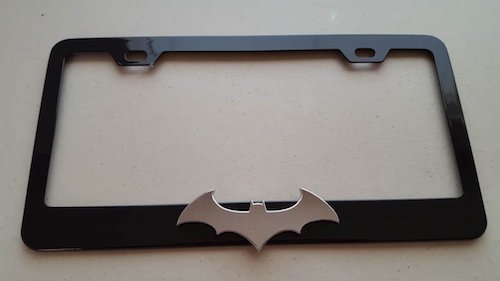 Batman License Plate
An easy way to add a Batman theme to your car is by simply replacing the license plate frame for a more suitable one.
This Batman license plate frame has a nice, basic design with a silver Batman emblem in the bottom-center portion of the frame.
The quality of this frame is by no means cheap. I can assure you that this frame will never fall off during your car's lifespan if you install it properly.
The size of this frame is 12" x 6". This is the standard size for all cars should be easy to attach.
Overall, check out this Batman license plate frame if you're looking for a quick and easy way to pimp your car's exterior.
Batman Floor Mats
Most cars come with standard black or gray floor mats. Where's the fun in that?
These Batman floor mats look great and have a durable build quality to them assuring that they will last long and stay clean.
The back of these mats of a rubbery material that does a great drop at preventing slippage.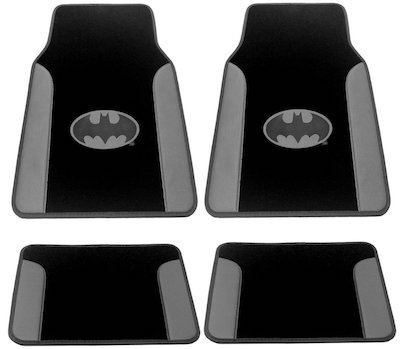 Gray Batman Seat Cover
The last accessory we'll be mentioning is a different variation of seat covers.
These covers are perfect if you're looking for a subtle Batman design in your seats.
With the seat covers, you also get 4 floor mats: 2 for the front, 2 for the back. As well as looking good, the floor mats are a great protection against spillage.
Summary
Those were my top 7 choices for the Best Batman Car Accessories. Let me know which one was your favorite in the comment section below!