With more than 160 possible tire choices in the market place today, making the right choice when you need to replace your tires can be a daunting task.
Moreover, it can be a time-consuming and frustrating experience as well, since the number of tire choices that might be right for you offered by brick-and-mortar tire shops are often dictated by the capacity of their often-limited storage facilities.
Fortunately though, the advent of online tire retailers has solved most of these problems. Some tire retailers carry several million tires of all sizes, brands, and types, which makes it easy to find any tire you may need, and you don't even have to leave your home to do it.
In this article we will highlight three major online tire retailers, and explain how they make buying tires online easy, even if you have never bought anything online before.
In essence, the process entails using handy search tools to limit your choices to the tires that will fit on your car. Next, you choose an installer close to you, check out, and the tires will be delivered to the address you supplied.
It's as easy as that, so let us look at some online tire retailers in more detail:

TireRack.com
TireRack.com is one of the largest online tire retailers in the world, with several million tires in stock at all times.
The site is easy to navigate, and all essential information is presented in the form of explainer videos. Below are some of the advantages of dealing with TireRack.com-
TireRack.com has the largest knowledge-base of "real-time" tire data in the world. The knowledge base is divided into categories, such as winter tires, all-season tires, off-road tires, etc., and each section is augmented by effective and user-friendly search tools to help you find what you need.
Each section is accompanied by

user reviews

, which allows you to virtually inspect your choices before you buy. You can't find this in brick-and-mortar stores!
Deliveries can be made either to your home address, or to any other address you specify. Deliveries typically take place the next business day after you place your order.
TireRack.com is partnered with more than 8,000 tire shops and installers across the country, meaning that there is bound to be an installer close to you. Each partner is locked into a price agreement with TireRack.com, which means that the price you see for installation is the price you pay. There are no unpleasant surprises, since all costs are clearly listed upfront.
> Click here to visit TireRack.com and browse their selection of tires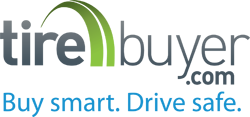 TireBuyer.com
TireBuyer.com also offers several million tires in stock, but with the difference that many choices are available on special deals that include rebates.
Like the other retailers, the site is easy to navigate and offers handy search tools to find the right tires for your application.
TireBuyer.com also features an extensive knowledge base in the form of articles that covers all aspects of tire care, tire safety, and tire choice.
Before you check out, you can also choose a local installer from the database of more than 8 000, and have your tires delivered directly to the shop you nominate.
There are several deals available, of which the Tire Installer Advantage is the most popular. This package includes the following-
Free delivery on some items.
Installation fees that are guaranteed.
Installation satisfaction is guaranteed. Problems and issues with the quality of workmanship during installation is rectified at no cost to the purchaser.
Free, easy returns for up to 45 days after delivery- even if you have used the tires.
Return shipping is free.
Provided the tires were delivered to your home or business address, unmounted tires can be returned within 30 days at a nominal shipping fee.
What are the advantages of buying tires online?
Now that you have three possible choices to consider when next you need to replace your tires, why should you actually use any of them? Are there really any tangible benefits to going the online route, as opposed to driving around for hours trying to find the tires you are looking for?
As it turns out, there are several real advantages to buying tires online. Apart from saving time, here are a few more-
Tires are

almost always cheaper

online as compared to the prices you can expect to pay at a traditional tire shop. Brick-and-mortar shops have rent to pay, and you pay a share of it every time you buy something from them. In addition, traditional shops don't have the economies of scale enjoyed by online retailers, who sell a thousand tires for every one tire sold by a traditional shop. Thus, higher sales volumes- lower prices.
On a tire retailer's site you get to check out reviews by past users. In this way you get a real insight to the buying experience, as well as into the quality of the products you buy.
There are

no

aggressive "up-sell" tactics involved. Most traditional tire dealers will do their utmost to get you to buy something you don't want or need. Online buying lets you escape all of that.
Some online tire retailers, such as TireRack.com, conduct their own tire tests independently, and freely make their tests results available to the buying public.
Unless the online retailer has an office or warehouse in your state, you don't pay sales taxes on online purchases.
Most, if not all online retailers stock hard-to-find specialty or high performance tires, and some even stock tires for vintage or specialized vehicles.
One more thing…
Although buying tires online is for the most part a hassle-free and rewarding experience, it is a good idea to read the user reviews on tire retailer's websites. In some cases, all costs are included, but there are exceptions to this, so look out for the following-
Check that installation costs include new valve stems.
Check that the cost of balancing the new tires is included in the installation fee.
Unless you need your new tires urgently, check on overnight delivery costs. In some cases, quick delivery can be double the normal rate, so it might be worth your while to wait for normal deliver
Enjoy learning about buying tires online?
Please share this article on social media if you have found it helpful. Thanks for reading!
Have a question about purchasing tires online? Don't hesitate to drop a comment below. I'll be happy to help you out!