The most common car upgrade people do is upgrading their radio.
Maybe your current radio doesn't have the features you desire. Well guess what? You don't have to settle for a boring stock radio any more! Installing a car radio is fairly painless. Within a small segment in a day, you can be driving off with a new fully-equipped car stereo.
I have narrowed down the best car radios to the 5 best choices.
I made sure to include radios that fit everyone's budget.
If you find this article helpful, please share it on social media. It would be greatly appreciated and helps us out tremendously.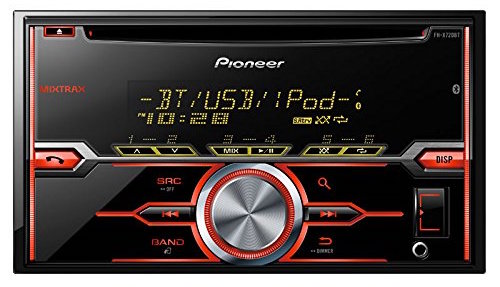 Pioneer FHX-720BT ($100)
The first radio we'll be mentioning is the Pioneer FHX-720BT.
Without a doubt, this is my #1 recommendation if you're looking for a quality stereo.
Build quality:
A great part about the FHX is how well it is built and how great it looks.
This stereo is illuminated by nice and bright LEDs. During the nighttime it is easy to see all of the controls without having to squint or look closer. Not only are the LEDs bright in the dark, but the LEDs are also multi-color and can be changed to whichever color option you prefer.
Features:
There's a lot of great features to mention about the Pioneer FHX.
First of all, it has bluetooth capabilities. This means that you don't even need an aux cord to get your phone connected with the stereo.
You'll get a powerful sound out of this radio thanks to the MOSFET amplifier inside. This bad boy provides 14 watts that will make sure your sound is not only loud, but also crystal clear.

JVC KDR-330 ($55)
This stereo is a beautiful, yet affordable option. For less than $60 it can be yours.
Features:
A great part about this stereo is that it will fit in most cars. It has a single-line LCD display that lights up nice and bright, making it easy to read.
To be extra confident that it will fit in your car, you can use Amazon's built-in tool to make sure the model of car you own is compatible.
The LCD will display the track/artist name if you are using the mp3 function. If you're plugging in an aux cord you won't get that information. (but then again that information would be quickly and easily available on your device, so it isn't 100% necessary.)
If you prefer using CDs there's a convenient slot-loading cd player.  The other input option you have is the auxiliary connection.
Build quality:
You'd be surprised at how well JVC managed to put together a car stereo for such an affordable price.
Like I mentioned earlier, the LCD and control LEDs are nice and bright, perfect for night driving. This stereo will last you many years and will remain very reliable.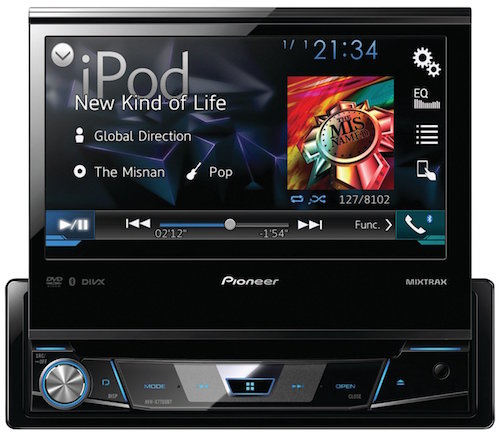 Pioneer AVHX7800BT (~$350)
Looking for a radio that will give you a large screen to watch movies on? Maybe you'd just simply like a larger screen to more easily browse your music. Either way, the Pioneer AVHX was meant for you!
Features:
Every car has different acoustics. While this might not seem like a big deal, it can make the difference between your music sounding good and your music sounding terrible. Luckily, the AVHX has a built-in 13-band equalizer for you to adjust sound. This means that you'll be able to boost the bass frequencies and tweak the mid/high frequencies with ease. Very useful!
This radio will work with just about any phone/device out there. Android-lovers would especially appreciate this radio because it has built-in support for all Android devices.
You'll find just about everything you need built into this radio. You got bluetooth, optional satellite radio, mp3 docking, and a lot of other great features.
Since this radio can pair with your smartphone, any phone call you get can show up on the radio's screen and you'll be able to accept/decline calls without having to pull out your phone while driving. This is great just for the extra safety alone.
Build quality:
The build quality is one of the many areas where this radio excels.
While it is built very solidly and has a strong design, you also get a 1 year warranty just incase you run across any issues.
The touch screen is very responsive and feels great overall. I did read some reviews that, by default, the brightness of the screen is at a low setting. This can easily be fixed by raising the brightness in the settings.
JVC KDR660
Another cost-effective stereo choice is the JVC KDR660. It costs less than $70 and will fit into most vehicles.
Features:
This stereo will work with pretty any media you throw at it.
Whether that is CDs, usb flash drives, or any auxiliary device, this radio is ready.
My only gripe is that this particular radio is not bluetooth-ready. A good substitute to bluetooth is to simply plug in your device to the aux input.
Android and iPhone users will feel at home. JVC particularly kept these devices in mind when designing this radio. They made it so your sound will be amplified as loud as you like, while still maintaining a perfect clarity.
Build quality:
This radio fits nice and compactly in your car. The buttons have a solid feel to them and will illuminate nicely in the dark.
The CD player doesn't skip and plays smoothly even on the bumpiest of roads.
For an inexpensive radio it functions quite well. It will last you many years of use.

Kenwood 
KMM-BT315U
The last stereo we'll be mentioning is the Kenwood KMM-BT315U.
It has an affordable price tag under $100 and comes with all the features you'd want in a car radio.
Features:
You'll find built-in bluetooth, a front usb connection, and auxiliary inputs.
The LED colors of this radio will vary depending on what option you select.
If you use Pandora, SiriusXM, or iHeart Radio, all of the services are compatible. I found it cool that there are thumbs up/down buttons to curate your music on Pandora.
There is no CD player. This gave Kenwood more room to add more awesome features. If you're anything like me and have switched over to music libraries on iPods and smartphones, there's a good chance you wouldn't be using the CD function anyway.
Build quality:
Kenwood managed to create an excellent stereo because it has a simple, clean design and it does every advertised perfectly.
This is a great customized radio that I highly recommend checking out!
Final Notes:
Overall, all of these radios are great choices.
Go with what fits your budgets and needs.
Have a question about one of the products mentioned? Drop a comment down below and I'll be happy to help you out ASAP.
Thank you for reading!